Upgrade Version 1.0.3 released today
We would like to express sincerely thanks to you for your support to our FiinPro Platform.
Our passion under Financial Information Services ("Fiinform") has been set clearly: "Innovative Always". Under our development pipeline, there will be more features, tools and data added to the FiinPro.
And today, we are pleased to inform you that we will upgrade FiinPro from version 1.0.2 to version 1.0.3 on October 14, 2015 with the following details:
What's New in this FiinPro?
Update of Financial Statements and related data tables/reports following recent changes in financial reporting regulation under Circular 200/2014/TT-BTC issued on December 22, 2014 which came into effect from Jan 1, 2015. You can realize changes on the following functions: Company/Financials; Data/Financial Statements.
Stocks qualified for margin trading qualification: You can find if the stock is legitimate or not for margin trading at: Company/Overview and Data/Stock Information.
Certain Vietnam's macro datasets added including:

FDI data by sector and Top 20 FDI investors to Vietnam, including details about: registration capital in the period, disbursed capital in the period and number of projects.
Exchange Rate Data: Daily inter-bank average exchange rate and 20 exchange pairs (Buy/Sell/Bank Transfer) set by Vietcombank.

Enhanced personalization: Besides copying, or saving charts in forms of picture, You can adjust interface, and color of the chart to fit with your designed reports.
News Sharing: You can directly forward financial news in English and Vietnamese from FiinPro to your customers' emails;
Improved performance of existing functions and user experiences, especially market module which processes a large volume of real-time data;
Furthermore, we would like to share with you our improvements of FiinPro in the next version of FiinPro (version 1.0.4) which is scheduled to release on December 15, 2015
Company Snapshot: Allow users to customize template for a quick company report and export it to PDF form.
Technical Analysis Chart: Integrate with technical analysis.
Addition of Fund-flow tracking data of 02 ETFs.
Addition of trading history classified in the following categories: Foreign investors (by Individuals and institutions), and domestic investors (individuals and institutions)
Automatic upgrade adjusted prices for specialized technical analysis software including AmiBroker and Metastock.
How to upgrade? Users can upgrade to FiinPro version 1.0.3 from 00h00 October 14, 2015.
Step 1: Close and reopen your FiinPro platform.
Step 2: "Check to update" window will appear. Click "OK".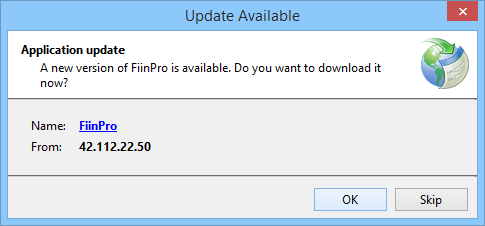 Note: "Skip" button is to ignore the upgrade if you do not want to. However, we strongly recommend you upgrade FiinPro to use it in most effective way.
Should you have any questions or queries during the upgrade process, please feel free to contact our Customer Support Centre at any time including weekends:
FIINPRO - CUSTOMER SUPPORT CENTRE
Hanoi Office
Ms. Do Thi Lan
Customer Relationship Executive
T: +84 - 4 - 3562 69 62 (Ext: 103)
Email: lan.do@stoxplus.com
HCMC Office
Mr. Nguyen Trung Ha
Customer Support – FiinPro® Platform
M: (+84) 4 3562 6962 ext. 103
Email: ha.nguyen@stoxplus.com
Related News
Other News
Our Events
Join Us Now! to use Fiin
« Go Back