[FiinPro Data] Proprietary Desks Net Sold VND 1.3 Trillion on HOSE in the First 5 Months of 2018
FiinPro Platform's data showed that proprietary desks net sold VND 1.3 trillion worth of shares on the Hochiminh Stock Exchange (HOSE) in the first five months of 2018.
Proprietary trading accounted for 2%-3% of the total trading value on HOSE in the period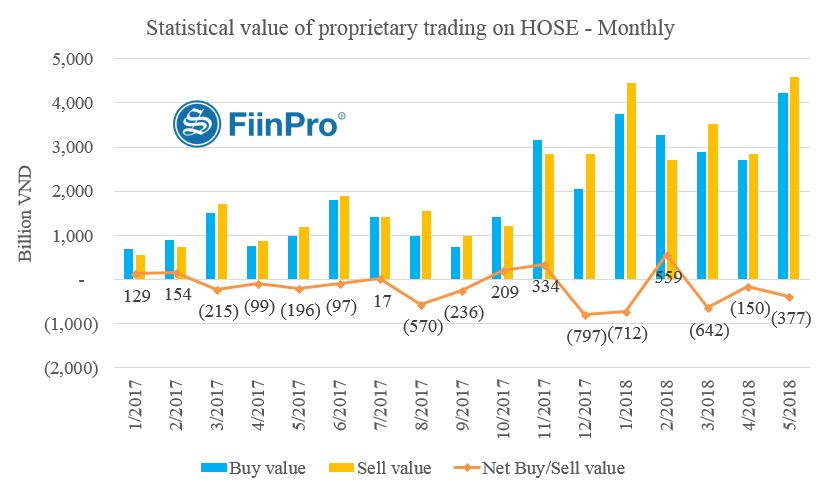 By the sector, Food and Beverage was mostly net bought by proprietary traders in the first 5 months of this year, of which SAB (VND144.7 billion) and VNM (VND239.6 billion) were most heavily net- bought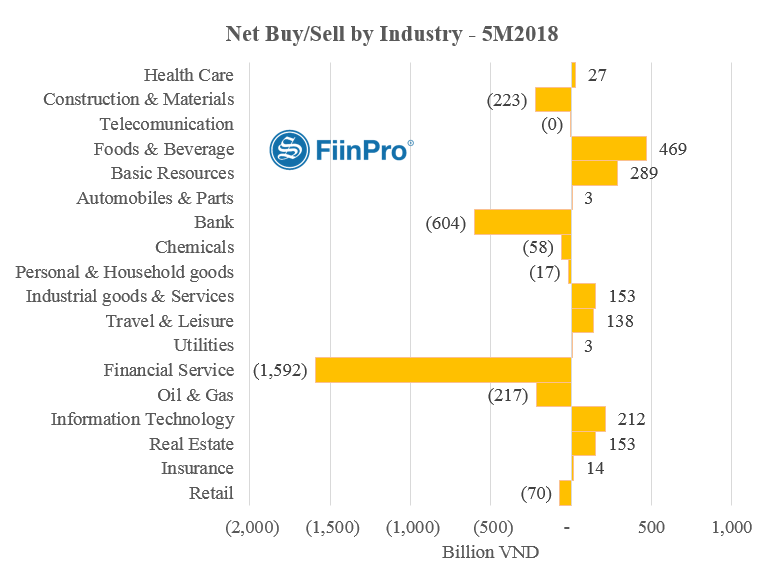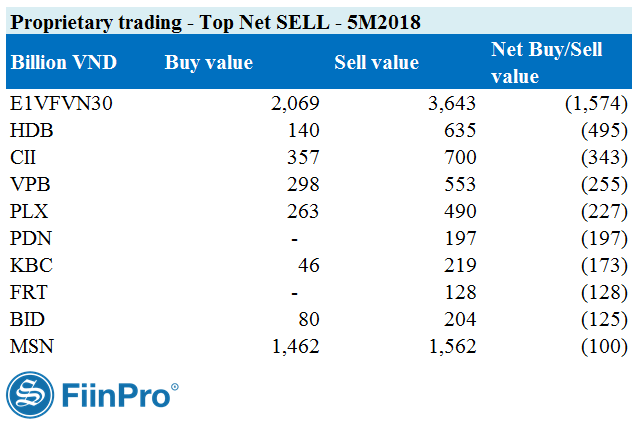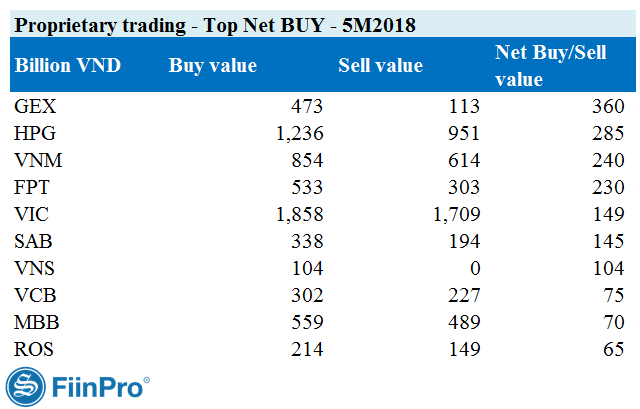 Detailed information can be found at:  http://fiinpro.com/upload/fiinpro/FiinPro_HOSE-GDTudoanh_2017-2018.xlsx 
Besides, You can also explore proprietary trading data by ticker on FiinPro with the function: Market/ Market Statistic /Proprietary trading
For any inquiries or support inquiries please contact our Customer Care Department:
Hanoi:
Đỗ Thị Lan (Ms.)
Tel: 024 3562 6962 ext: 103
Ho Chi Minh City:
Nguyễn Hải Yến (Ms.)
Tel: 028 3933 3585 ext: 203
« Go Back
Our Events
Jun 11, 2018

FIINPRO - USER TRAINING CLASS (Hanoi)

FiinPro® Platform, empowered by the most comprehensive and insightful financial database for Vietnam, will help you save time and money in acquiring, cleaning up, validating and standardizing data.

Apr 23, 2018

Fiinpro Talk #6 – Đầu Tư Cổ phiếu Ngành Ngân Hàng Việt Nam: Cơ Hội và Rủi Ro

Chiều ngày 19/04, FiinPro Talk #6 đã được tổ chức thành công tại TP.HCM với sự tham dự của gần 150 nhà đầu tư và đại diện các Công ty chứng khoán, Ngân hàng, Quỹ đầu tư... Buổi thảo luận đã đưa ra cái nhìn tổng quan về thị trường cổ phiếu ngành ngân hàng 5 năm vừa qua, đồng thời chỉ rõ các cơ hội và rủi ro đầu tư với số liệu phân tích của StoxPlus và các chuyên gia cấp cao trong ngành tài chính, ngân hàng.