Vietnam Real Estate - Where is the market heading to?
The domestic real estate market has had a period of strong growth in the past five years, will this bull market continue and support real estate stocks to lead the market?
With insights and in-depth analysis of the real estate market in Vietnam as well as in the region, Mr. Troy - Deputy Managing Director of Savill Vietnam shared some useful information at the FiinPro Talk 7 " Vietnam Banking and Real Estate Stocks: Closing for 2018 and Outlook" recently held in Hanoi.
According to Troy, macroeconomic conditions are good at supporting the real estate industry. He cited GDP growth of 7.1%, consumer price index 3.3%, retail sales reached 70 billion, up 11% YoY , international tourists increased by 27%, FDI registered up 6%, disbursements up 8%, trade surplus of $ 2.7 billion, remittances to Vietnam accounted for 7% of GDP in 2017 and contributed 22% to real estate sales.
In the context of favorable conditions, the office markets in Ho Chi Minh City and Hanoi are growing very well with impressive numbers, occupancy is over 90% in both cities, supply slightly increased over the previous year, up 9% in HCM and 2% in Hanoi. The average gross rent of 29$/m2/month in Ho Chi Minh City makes it the best office property market in the world, said Mr. Troy. Especially the rent of Grade A office space is USD55/m2/ month, two times higher than that in Hanoi of USD29/m2/month. The explanation for the lower rent price of Grade A office in Hanoi is Grade A office market is not only distributed in the city center but also in the West. Overall the office market is still very good and demand continues to increase.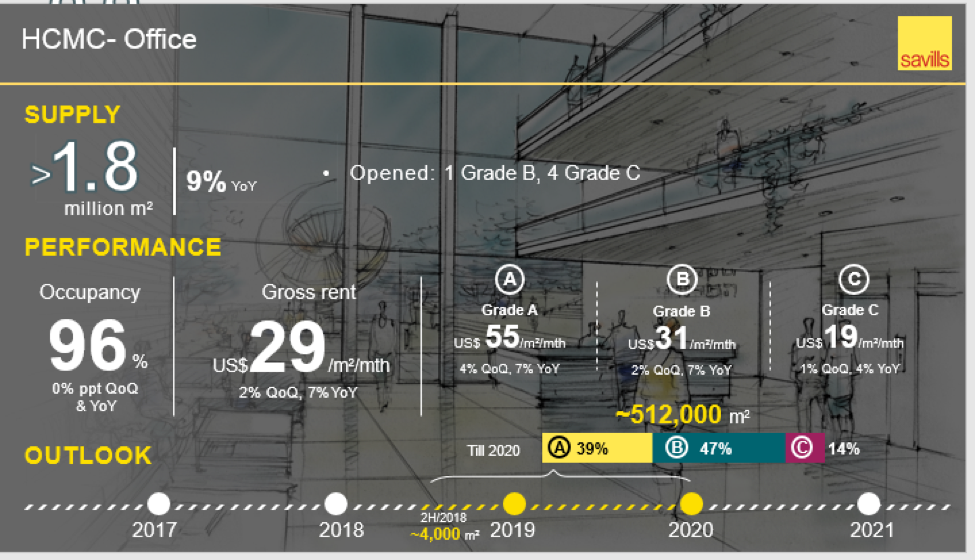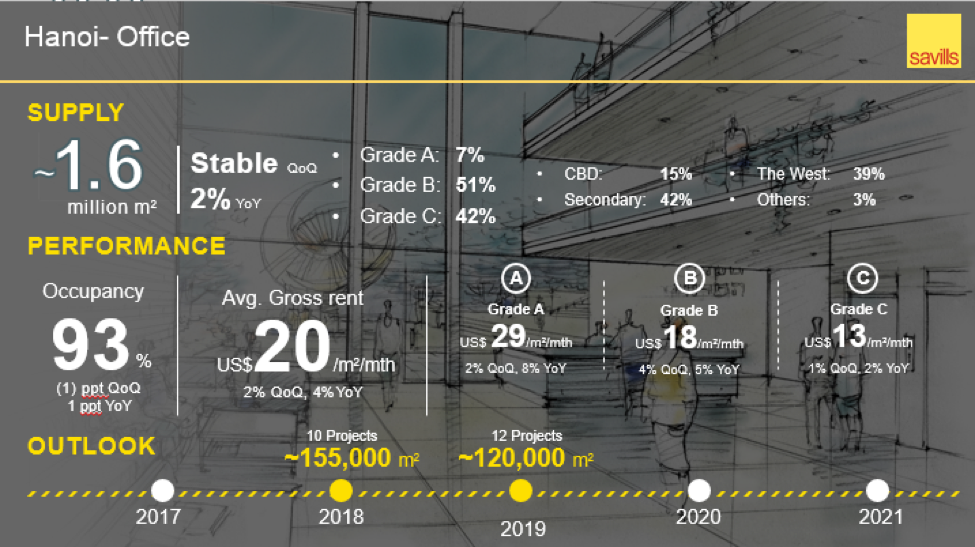 Serviced apartment market is highly correlated with FDI inflows. HCM serviced apartment market has average occupancy of 83%, the current supply is only 5,270 units, up 3% quarterly and 12% per year, but the supply outlook to 2020 increased only over 1,600 units. Meanwhile, the Hanoi market, despite its good performance with accupancy of 88%, will be under pressure as the supply of serviced apartments will increase and newly finished ones will come into the market. Therefore, the rental price and rental capacity are expected to decrease. By the end of 2018, Hanoi will have 520 more units, in 2019 are 850 units and in 2020 are 490 units.
The segment of villas and townhouses, in both cities, is leading the market, accounting for more than 50% of real estate sales in 2017. Demand for housing in Ho Chi Minh City is huge with a population of about 8 to 10 million people, while the supply of villas and adjacent houses is only 1.680 unit. This is a very small number showing that there is still a zoom to develop. Similarly, for the Hanoi market with a population of 7.5 million, the supply of villas and semi-detached houses of 3,451 units is too small compared to big demand.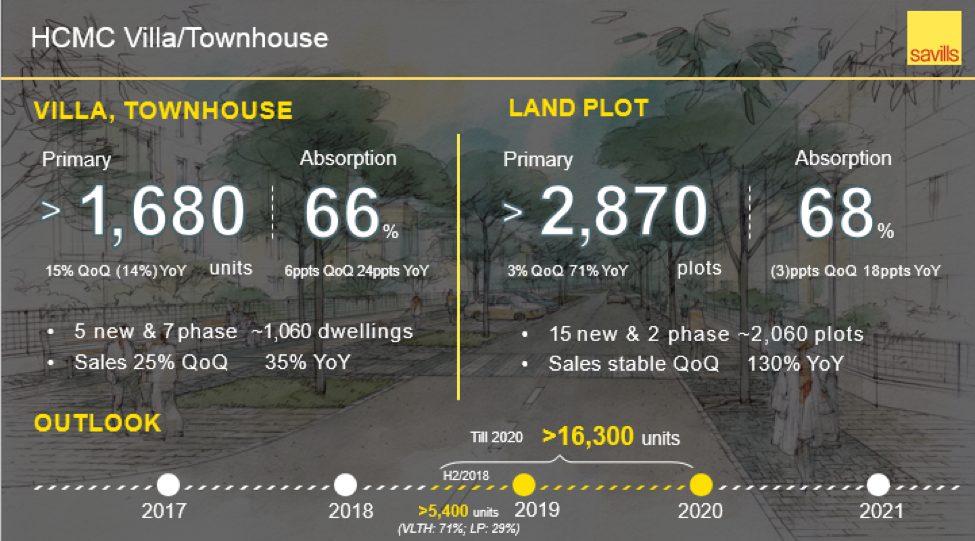 The apartment market has grown steadily over the years, the growth rate of HCM City is stronger than that in Hanoi. It is notable that in both markets, the segment of class B and C apartments are the leading ones.  Savills' forecast that the trend of future supply of apartments will be Grade A apartments down giving way to the growth of Grade B and Grade C ones at least until 2021. In terms of apartments for sale, HCMC's primary supply is currently at 25,400 units and the number of units sold in the second quarter of 2018 is 14,300 units, compared with sales of the Singapore market for the whole year at 9,000 units. The apartment market in Ho Chi Minh City is very hot. Apartment supply is decreasing both by quarter and by year, so fewer products are marketed, mainly driven by segment C.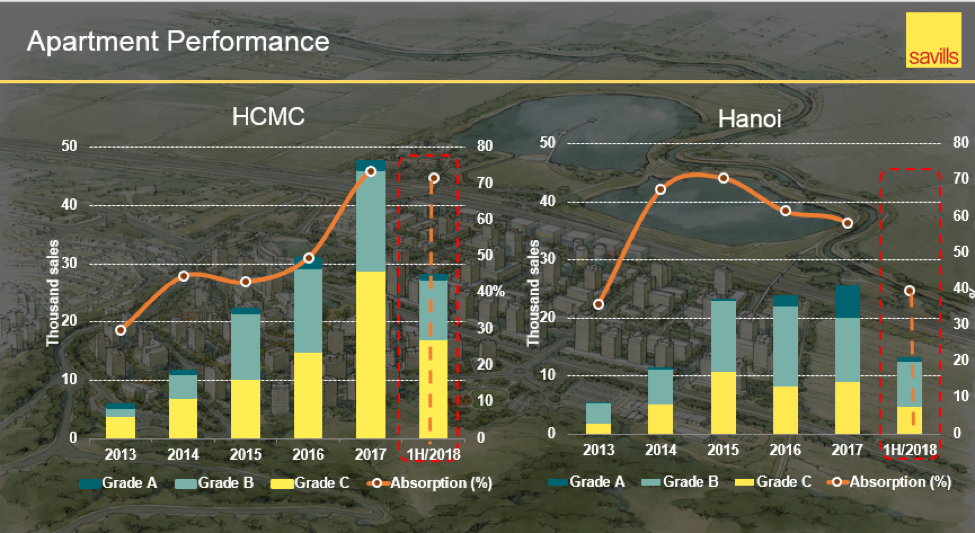 Real estate stock outlook and investment philosophy
The warming real estate market is the foundation for real estate stocks to grow strongly in the last five years, outperforming the overall market. Real estate stocks rose 143.3% and VNIndex gained 96.5% from 2014 to 2018.
Over the same period, the EPS of the real estate sector slightly decreased in 2015 but it posted sustainable growth in 2015, 2016 and 2017 and is forecasted to continue to grow well and reach 21.9% (excluding VHM). If VHM is included, EPS  of the real estate sector could grow by 72.3% in 2018.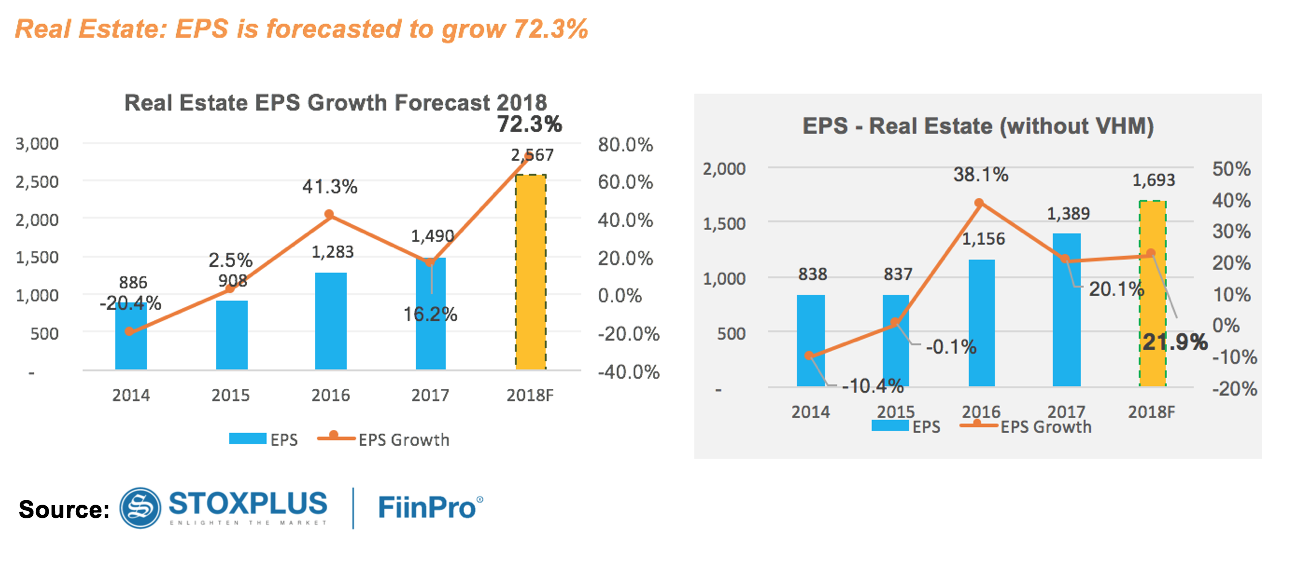 FiinPro Talk 7 also pointed out that for real estate companies, the key factor is that if the business environment and policies would create favorable conditions for real estate developers to mobilize capital from banks and customers or not. And liquidity is the most important factor that means if the developers can sell their products or not. In fact, the real estate company will always be profitable because of the difference of land price acquired and land price sold. The reality is real estate industry's profitability can change or even reverse very quickly because of these factors. Therefore, investors need to monitor and evaluate each one based on their capacity as well as the list and progress of each major project.
The real estate industry has not had any signs of a "crisis", according to Savills. However, the FiinPro Talk 7 showed that 65% of customers buy class A housing are for "investment"! The risk will vary depending on the sensitivity of the buyers' available disposable income.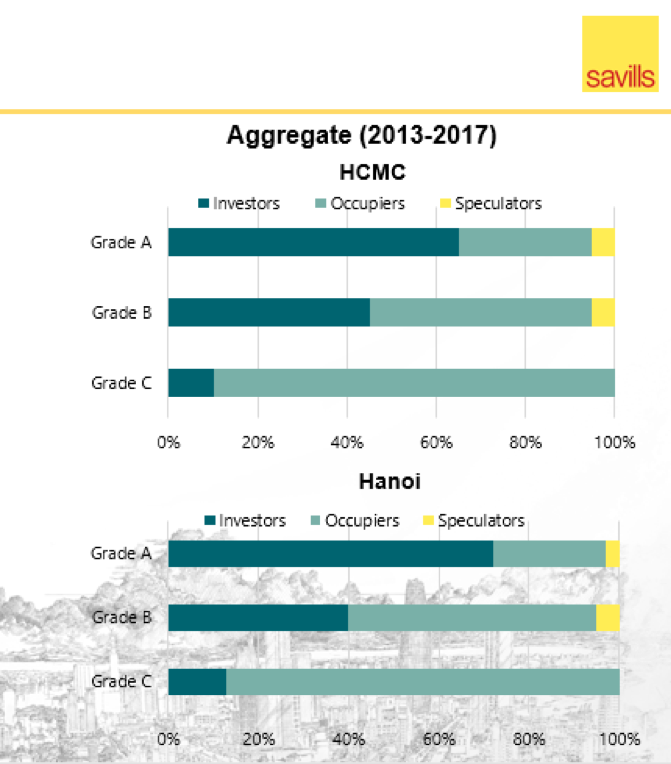 Real Estate Debts: Increase or Decrease?
The real estate sector is dependent on credit, while credit to real estate companies has declined but credit to homebuyers has grown exponentially.
FiinPro Platform data showed that the growth pace of outstanding loans to real estate developers  is trending down, from 5.5% of total outstanding loans in the sector in 2017 to only 5.78% in the first 6 months of 2018 while homebuyer credit grew to over 10% in the same period. Total outstanding real estate debt is about 16% of the total outstanding loans in the system.
Mr. Thuan pointed out that shifting from lending to developer to home buyers, the banks will limit the risks from real estate investment loans because the risk will be transferred and dispersed from real estate developers to home buyers. However, "home buyers" are more sensitive to the bank's lending rates.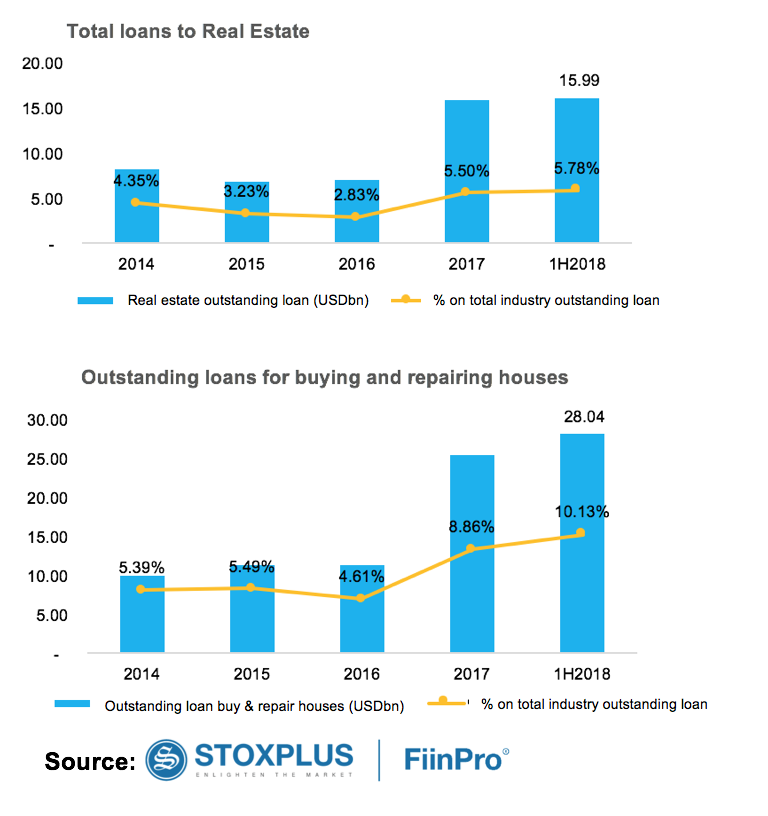 Based on the analysis and discussion, majority of participants in FiinPro Talk 7 agreed that the peak of the real estate industry will be seen in the first half of 2019 or even earlier in the fourth quarter of 2018.
« Go Back