[FiinPro Platform] Upgrade Version 1.1 released on October 10, 2016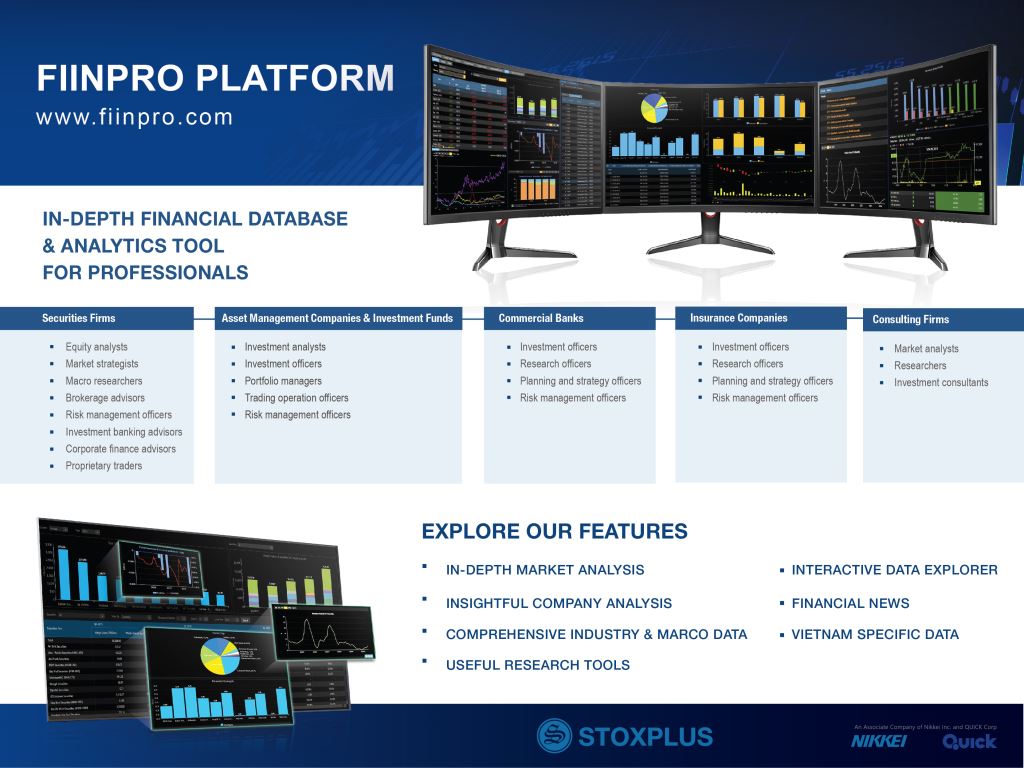 Dear our valued customer,
We would like to extend our sincere thanks to valued customers who have been trusting and supporting us through using StoxPlus' FiinPro. We believe that our FiinPro has been providing you with useful data to boost your operation efficiency
StoxPlus, with our motto of "Innovative always" in financial information service industry ("Fiinform"), has been making efforts and committed to providing customers with additional datasets, features, and tools on FiinPro Platform under our development pipeline.
And today, we are pleased to inform you that we will upgrade FiinPro from version 1.0.5 to version 1.1 on October 10, 2016 with the following details:
What's new in this FiinPro?
Portfolio: Users can set up their own portfolio and quickly track its profit/loss; a market risk measure indicator, along with asset allocation latest news and reports of stocks in the portfolio; Portfolio alert.
Investment Calendar: Comprising SOE's divestment, Initial Public Offering, Share issuance and Corporate Bonds, to make it more convenient for you to track.
Industry Insight:

Industry classification detailed to Level 5 of some common sectors: Office Real Estate Development, Residential Real Estate Development, Plastics, Rubber, Fertilizer, Details of Fishing, Food, etc.
Providing an insightful information and data of three specific industries, including Aquaculture, Cement and Steel;
Sector Analysis gives a comprehensive analysis of sector data, consisting of Key Ratios, Performance and Valuations of sectors in all levels;

Financial Statement in USD: Financial Statement data can be converted into USD at the exchange rate of the data period.
EPS diluted, Free cash flow to firm are added as well as Price performance ratio.
Should you have any questions or queries during the upgrade process, please feel free to contact our Customer Support Centre at any time (including weekends) via:
Do Thi Lan (Ms.)
FiinPro, Customer Support, Hanoi Head Office
Tel: +84-4-3562 6962 – ext: 103
Email: lan.do@stoxplus.com
Nguyen Hai Yen (Ms.)
FiinPro, Customer Support, HCM Branch
Tel: +84-8-3933 3586 – ext: 201
Email: yen.nguyen@stoxplus.com
« Go Back
Our Events
Oct 22, 2018

Vietnam Real Estate - Where is the market heading to?

The domestic real estate market has had a period of strong growth in the past five years, will this bull market continue and support real estate stocks to lead the market?

Oct 09, 2018

Are Banking Stocks Still Attractive?

Banking stocks have been one of the market leading ones over the years. FiinPro data showed that banking stocks enjoyed a 3-digit growth for the past five years, up 154.1% versus VNIndex's double-digit gain of 96.5%. Will the attractiveness of banking stocks remain in the last months of 2018 and in 2019?