Why choose FiinPro Platform?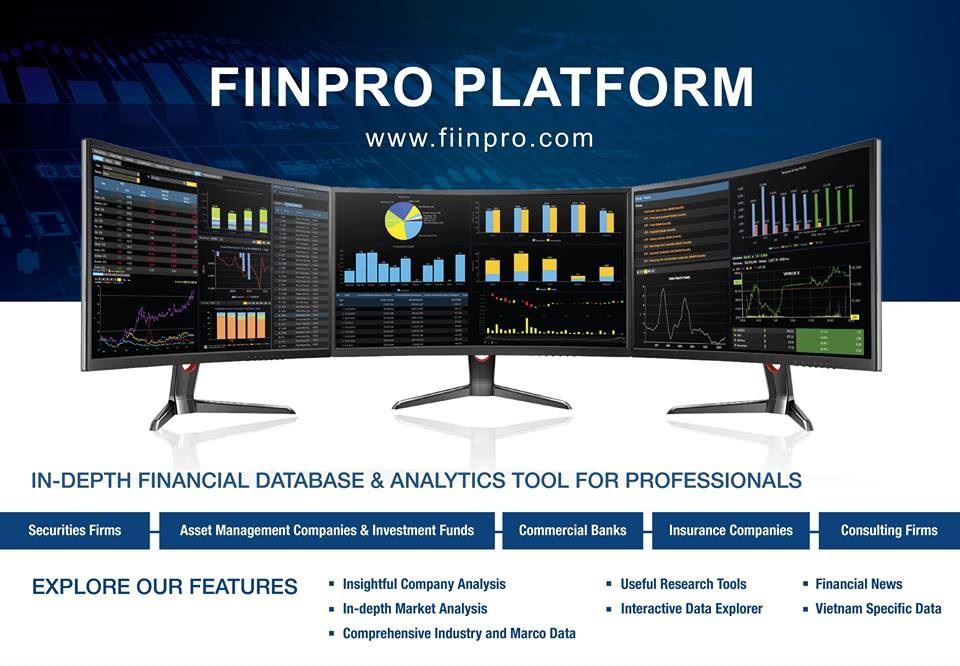 FiinPro Platform is the most comprehensive and in-depth financial database for Vietnam in a PC based application available with both languages English and Vietnamese. It covers not only highly standardised corporate database of all 3000+ public companies in Vietnam but also the macroeconomic data, banking & monetary market, industry data, level-2 trading data, financial news, M&A and IPO data and so on FiinPro also offers useful analytic tools such as Market Live, Investment Strategy Screening, Stock Screening, Market Statistics, Factor Returns, Data Explorer and many more tools assisting analysts, fund managers, investment officers, researchers, finance consultants, brokerage consultants, and other financial and investment professionals.
Professional & International Standards
Powerful analytics platform jointly developed by FiinGroup (formerly StoxPlus) and QUICK Corp. – a leading Japanese company with more than 60 years in financial information services industry;
Data and ratio methodology reviewed by in-house ACCA, CPA and CFA qualified staff and independently verified by a third party.
Most updated & In-depth Data
Real-time interactive data on Vietnam stock market, watch lists, sector performance and live price board with advanced stock filter by sector, exchange and winners/losers;
Most up-to-date and reliable financial statements together with company profiles of all companies listed on HOSE, HNX and UPCOM since their listing;
Comprehensive suite of 200+ leading indicators for stock valuation, trading risk management, market liquidity, management efficiency, financial strength and profitability;
Market data is updated on a real time basis. Fundamental information is updated and financial ratios are re-calculated and updated within 30 minutes after trading hours every day.
Powerful & Useful Features
Comprehensive suite of Stock and Analysis, Stock Compare, Stock Screener, Sector Analysis, Earnings Forecast, Research Reports, Comparing Stocks with hundreds of indicators, charts, income statements and balance sheet items;
Filtering the whole market using 250+ criteria and displaying only the stocks that meet user's criteria;
Complete analyses for each sector and sector-on-sector comparisons, in which International Benchmarking Classification standards are applied;
Estimating free cash flow and discount rate under CAPM model to value a stock and checking results with multiple earning approaches.
FiinPro is best for financial professionals at:
Securities Companies
Asset Management Companies
Investment Funds
Commercial Banks
Insurance Companies
Consulting Firms
If you are retail investor, you might be interest in our highly-anticipated FiinTrade Platform specially designed to served brokers,  active traders, and sophisticated individual investors in Vietnam.
A selection of our customers
« Go Back