[FiinPro Platform] Upgrade Version 1.0.4 released January 05, 2016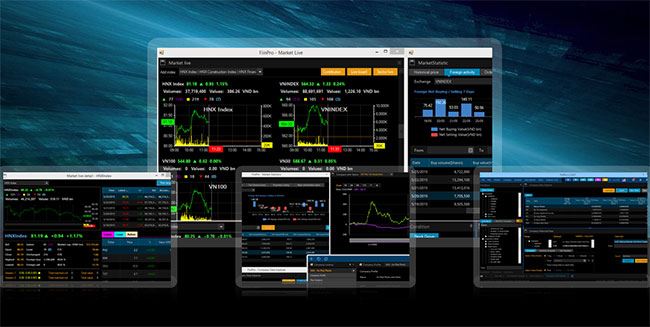 Dear valued customers,
We would like to express sincerely thanks to you for your subscription to our FiinPro Platform. We believe that it provides useful data and enhances the efficiency of your operations.
Our passion under Financial Information Services ("Fiinform") has been set clearly: "Innovative Always". Under our development pipeline, there will be more features, tools and data added to the FiinPro.
And today, we are pleased to inform you that we will upgrade FiinPro from version 1.0.3 to version 1.0.4 on January 05, 2016 with the following details:
What's New in this version?
Company Snapshot
Users can easily generate Company Insight Report in various forms and direct to emails for quick references. Not only listed companies but any from the database of over 2000 public companies.
Vietnam Economic Overview
A panorama of Vietnam market with over 100 indices and data groups dedicated to Vietnam. It visualizes data, reduces latency, giving you unique data about Macroeconomic, Monetary Markets, State Budget Revenue, Balance of Payment, and so on.
Data for Technical Analysis
Users can feed adjusted prices and related market data for specialized technical analysis softwares including AmiBroker and Metastock.
Market Data
Quickly grasp market movements via our new features with level 2 data from HOSE including:
Market Board: Real time trading data
Market Summary: End of day trading data
Top Buzzer: Statistical data of abnormal high trading volume
Trading by investor type: Addition of trading history classified in the following categories: Foreign investors (by Individuals and institutions), and domestic investors (individuals and institutions)
Fund-flow tracking data of 02 ETFs including Market Vectors Vietnam (VNM) and DBx -trackers FTSE Vietnam (DBx) ETFs.
StoxPlus Data Template
The feature allows customers to use designed data template about Earnings, Corporate Bond Issue, Share Issue, Cash Dividend, IPO, Board of Director, and Major Shareholders and much more.
How to upgrade? Users can upgrade to FiinPro version 1.0.4 from 00h00 January 05, 2016.
Step 1: Close and reopen your FiinPro platform.
Step 2: "Check to update" window will appear. Click "OK".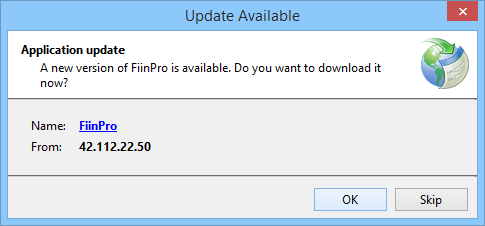 Note: "Skip" button is to ignore the upgrade if you do not want to. However, we strongly recommend you upgrade FiinPro to use it in most effective way.
We will update the whole system on 04/01/2016, start at 5:00 PM to 11:59 PM. Please be informed that, the system should be down for the upgrade, and users cannot use FiinPro® Platform during this time. We are sorry for any inconvenience and would like to welcome you come back and upgrade FiinPro® after the time slot above.
Should you have any questions or queries during the upgrade process, please feel free to contact our Customer Support Centre at any time including weekends:
FIINPRO - CUSTOMER SUPPORT CENTRE
Hanoi Office
Ms. Do Thi Lan
Customer Relationship Executive
T: +84 - 4 - 3562 69 62 (Ext: 103)
Email: lan.do@stoxplus.com
HCMC Office
Mr. Nguyen Trung Ha
Customer Support – FiinPro® Platform
T: +84 - 8 – 3823 34 85 (Ext: 801)
Email: ha.nguyen@stoxplus.com
« Go Back
Our Events
Jun 11, 2018

FIINPRO - USER TRAINING CLASS (Hanoi)

FiinPro® Platform, empowered by the most comprehensive and insightful financial database for Vietnam, will help you save time and money in acquiring, cleaning up, validating and standardizing data.

Apr 23, 2018

Fiinpro Talk #6 – Đầu Tư Cổ phiếu Ngành Ngân Hàng Việt Nam: Cơ Hội và Rủi Ro

Chiều ngày 19/04, FiinPro Talk #6 đã được tổ chức thành công tại TP.HCM với sự tham dự của gần 150 nhà đầu tư và đại diện các Công ty chứng khoán, Ngân hàng, Quỹ đầu tư... Buổi thảo luận đã đưa ra cái nhìn tổng quan về thị trường cổ phiếu ngành ngân hàng 5 năm vừa qua, đồng thời chỉ rõ các cơ hội và rủi ro đầu tư với số liệu phân tích của StoxPlus và các chuyên gia cấp cao trong ngành tài chính, ngân hàng.