Vietnam consumer finance market: The results from two growth strategies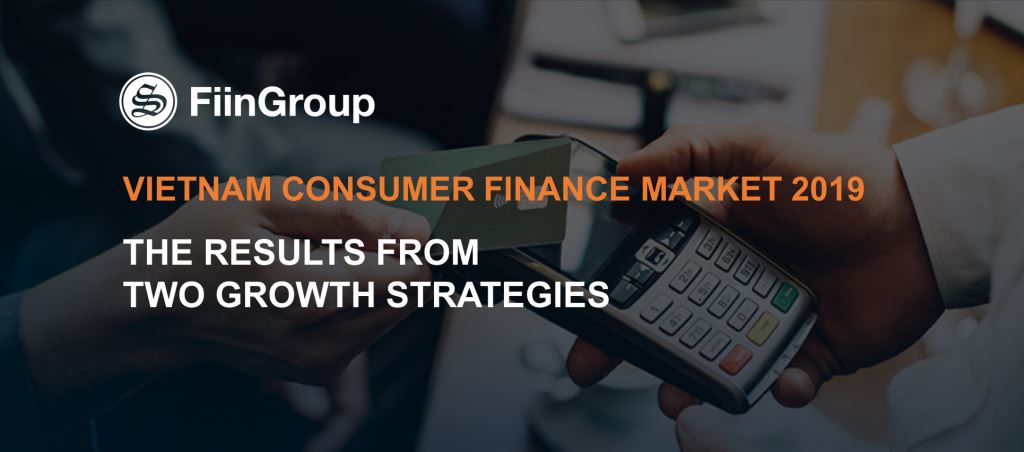 The pace of Vietnam consumer finance growth has currently shown clear signs of slowing down.
In 2018, the consumer finance segment accounts for 19.7% of the national loan book (3% higher than the figure in 2017). Nonetheless, compared to the past five year period when the market reached a CAGR of 59% YoY, the overall growth of 2018 cooled down and declined to 30.4% YoY. Specifically, finance companies (Fincos), despite experiencing strong growth in the early years, could not sustain such speed in 2018. The growth slumped to 15% YoY compared to 38% YoY in 2017.
Figure 1: Growth YoY (%) of Consumer Finance market
Competition intensified as new active players entered the market. If in 2015, there were only a handful of Fincos active in consumer finance (CF) market, the 2018 consumer credit segment saw 16 active and licensed Fincos in the market place, not counting the alternative lending and pay-day loan platforms, compared to a few players 3 years ago. MCredit have had an impressive performance, taking over 5% of market share by the 2nd year of operation thanks to the strong focus on cash loans products, followed by SHB Finance and Easy Credit. FE Credit, though still the biggest player, incurred a slight decrease in its market share from 48.9% in 2017 to 47.3% in 2018.
In this article, we aim to divide FinCos based on their growth strategies and briefly benchmark them in terms of financial and operating efficiencies.
Figure 2: Market share by Fincos 2017 vs 2018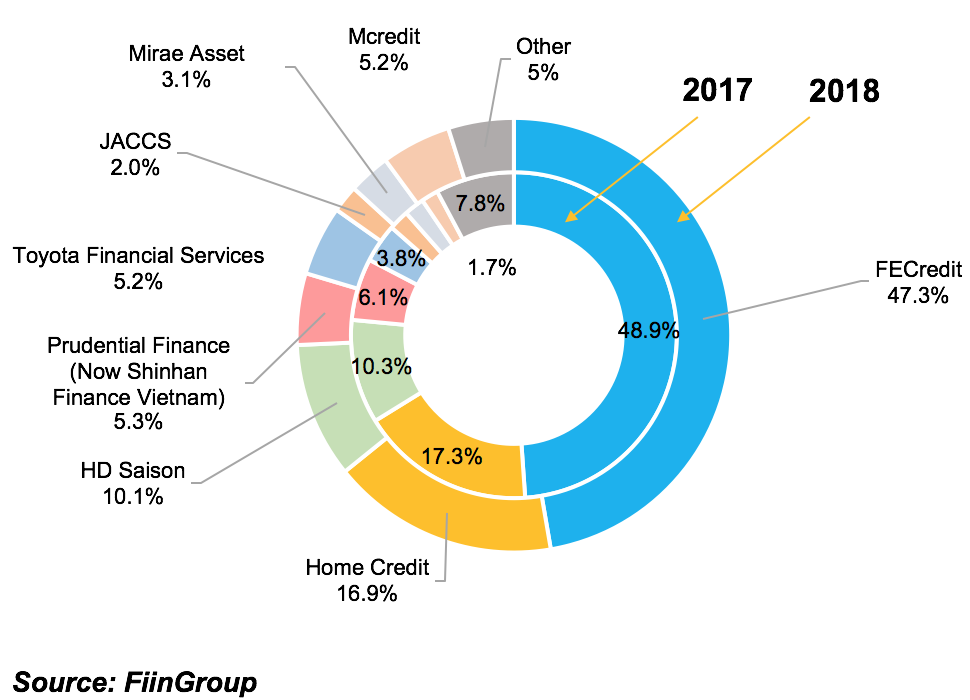 CF players are generally separated into two groups with different growth strategies. While some prioritize loan growth at the expense of high NPL, some prioritize better asset quality and capital adequacy.
The group of companies which prioritize market share growth and profitability albeit lower asset quality is aggressive players.
Focusing on offering collateralized, automobile loans for Toyota cars, Toyota Finance has limited NIM and profitability. Nevertheless, thanks to the healthy growth in Toyota car sales volume in recent years, the company recorded robust loan book growth in 2018.
FE Credit has been the pioneer in this aggressive strategy through launching new products and investments in technology innovations. Its considerable loan growth of 19% was accompanied by the high NPL at 6%. Accordingly, its provision was marked high at 65% of total operating income.
Similarly, Mcredit with the rocketing growth of 254% is also an aggressive player. There is still room for the company's growth judging from its loan/debt coverage at only 96%; however, the focus on only cash loans products would increase risks for the company when its current NPL have reached the high level of 6%.
In contrast to three formers, HD Saison experienced a decline in its growth compared to prior years due to the change in its business strategy from expanding coverage to focusing on existing customers within its ecosystem (HDBank – Vietjet – HD Saison).
Figure 3: Financial ratios between among selected Fincos - Aggressive group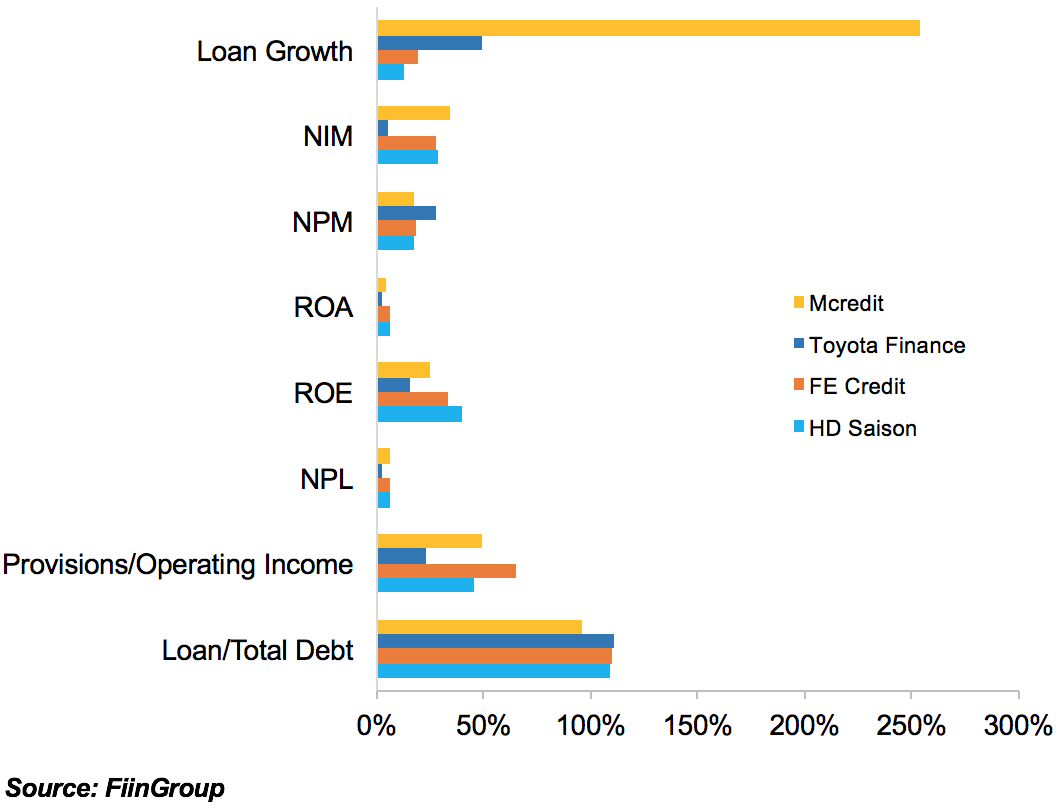 In contrast, cautious players are characterized by relatively slower loan growth and lower NPL, yet stronger asset quality and capital adequacy.
The outlier of this group is Mirae Asset, which enjoyed significant growth of 79% as the company started focusing on cash loans as a new growth driver, while NPL still approached the average rate of 5%. While ROA saw a slight decrease from 3.4% by YE2017 to 3.25% by YE2018, ROE improved from 7.2% by YE2017 to 11.5% by YE2018, thanks to increased leverage.

Home Credit's continued high NIM, ROA, ROE and NPM, with low NPL of only 4% thanks to robust risk management and technology platform. In the near future, stronger growth is expected due to its strategic partnerships with e-wallet platform Momo.

JACCS is another case of a conservative player when the company experienced a modest credit growth due to the decreased number of new contracts and automobile loans. While JACCS was the pioneer in credit card market among Fincos, its more cautious approach has allowed newer, more aggressive entrants (FE Credit, Home Credit) to take over the market share in credit card and other segments. 

Currently, under transition to the management of Shinhan Card Co. Ltd, Prudential Finance's growth slowed to the lowest level of 1% among the group because of no new loans recorded. This has allowed a decrease in costs, which resulted in better operational efficiency. However, we expect more significant operational improvement once Shinhan Bank has actively participated in the company's operations, which could mean new products, strong financial support, and a change in business strategy. 
Figure 4: Financial ratios among selected Fincos - Cautious group
Clearly, there is no one way to do consumer credit in Vietnam and players following these two strategies are constantly adjusting to find a sweet spot for sustainable growth in the context of fierce competition. Our Consumer Finance Market Report 2019 reviews the performance of each player in terms of product market share, financial efficiencies, as well as discussion on the new trends that are capturing the market.  
More detailed information about the Consumer Finance market could be found in our 7th comprehensive report on Consumer Finance in Vietnam, featuring the most up-to-date information on Consumer Finance companies as well as practical market trends and news to aid your decision making. 
Click here to explore the latest Vietnam Consumer Finance Market Report 2019 

Contact our Client Advisor team:
Tuyet Nguyen
Manager, Client Advisor
M: +84 077 333 5034
T:  +84 28 3933 3585 (ext.: 208)
Trang Le 
Executive, Client Advisor
M: +84 936 919 885
T:  +84 24 3562 6962 (ext.: 103)
E:  trang.lenguyen@fiingroup.vn
« Go Back