Vietnam - Global Opportunities for Sustainable Local Development
DEC 04, 2015

Business Forum: 13:30 – 18:30

Dinner: 18:30 – 20:00

Sheraton Hanoi Hotel, K5 Nghi Tam, 11 Xuan Dieu Road, Tay Ho District, Hanoi, Vietnam
This is invitation-only event
In line with the country's economic reform and development, smalland medium-sized enterprises (SMEs) have experienced a phenomenal growth and gradually contributed a bigger role to the economy. Given the weaknesses of Vietnamese SMEs and constraints for their development, there is an urgent need to shed lights on characteristics and factors of SMEs growth and dynamism such as SMEs networking, innovativeness, markets extension, and effectiveness of policies and programs in promoting SMEs in the country. The pattern of regional development in Vietnam is determined by a multitude of variables that can be classified into categories such as geography, history, and policy. Moreover, the regional development has also created different dimensions of the SMEs' entrepreneurial orientation, and diversified patterns of the SMEs' participation in national and global value chains. Identifying the relative importance of different groups of determinants is essential because it reveals the scope for change that influences the pattern of growth and development.
The Forum will begin with the Open Session by the IIB Council, giving the participants an opportunity to learn more about the IIB and its partners. Two main session will be dedicated to some of Vietnam's key priorities, examining opportunities and challenges in relation to the development of SMEs and Vietnam's regions and cities. The aim is to identify the problems and discuss possible solutions, especially tailor-made financial products and international cooperation with overseas partners.
Session I focuses on the importance and the internationalization of Vietnamese SMEs with discussions among IIB Council, the moderator corporate representatives and government officials. The objectives of Session I are to point out the vital role of SMEs for Vietnam's economy and to identify obstacles as well as opportunities for SMEs' growth in the internationalization context through involvement in export and import. The need to invest in Vietnam's regions is emphasized on Session II. Representatives from IIB Council and foreign FIs as well as regional Vietnamese authorities will address different approaches of Vietnam's region towards economic development and present innovative solutions for contributing to the development of Vietnam's regions. In both Sessions, participants also learn about IIB products, its partners and the IIB role.
The event is expected to have about 200 participants including representatives of the government (both central and local), international and local financial institutions, diplomats, donors, development partners and business community.
Participants
Number of attendees: 200 people
Outline
Date

December 4, 2015

Time

Business Forum: 13:30 – 18:30
Dinner: 18:30 – 20:00

Venue

Sheraton Hanoi Hotel, K5 Nghi Tam, 11 Xuan Dieu Road, Tay Ho District, Hanoi, Vietnam

Language

English and Vietnamese simultaneous interpretation will be available during the conference
Selection of Participants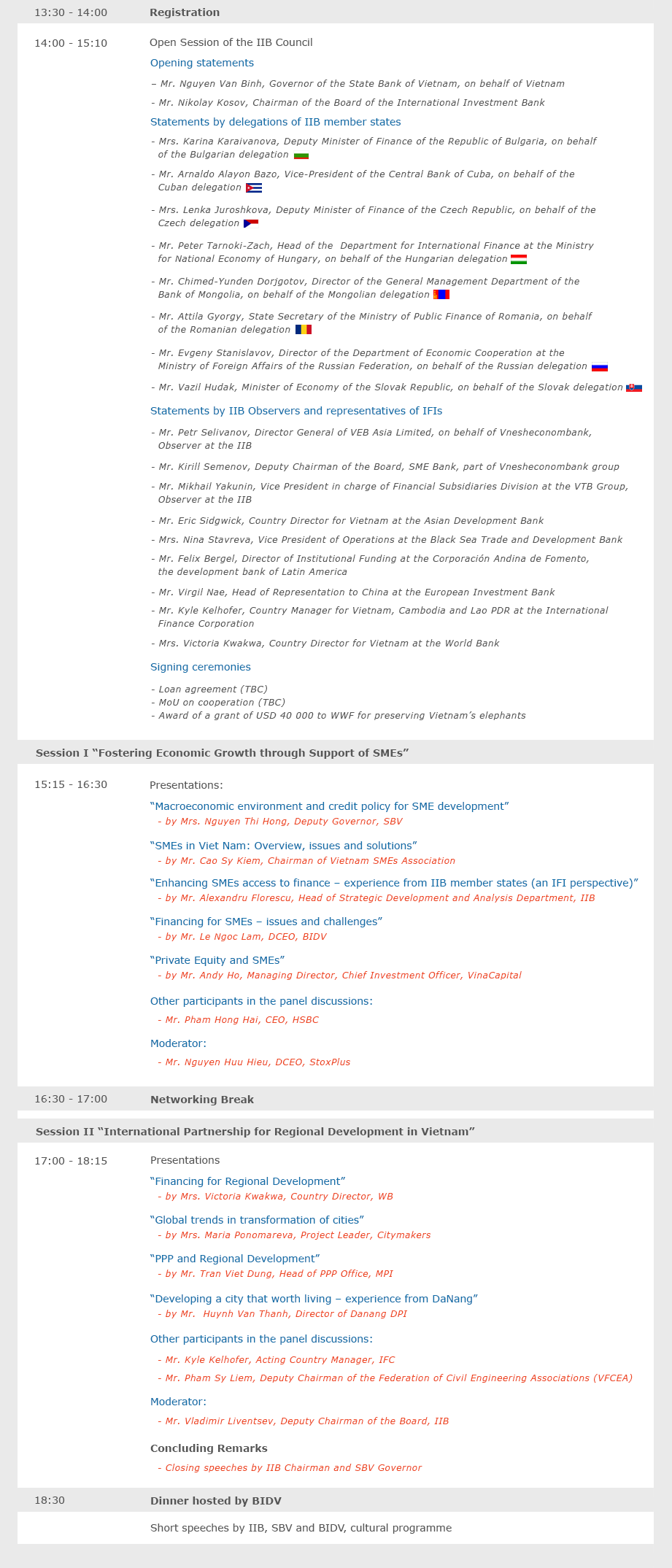 4
Contact Us
Media Contact
Ms. Duong Thi Huong Lan
StoxPlus Corporation
5th Floor, Indovinabank building, 36 Hoang Cau Street, O Cho Dua Ward Dong Da District, Hanoi, Vietnam
Phone: +84-4 3562 6962 - ext 110 (Ms Lan)
Fax: +84-4 3562 5055
Email: lan.duong@stoxplus.com
Office hours: 9:00 am to 5:00 pm, except on Saturday, Sunday and Public Holidays