Vietnam seeks to appeal more foreign investors in 2018 following record breaking M&A record 2017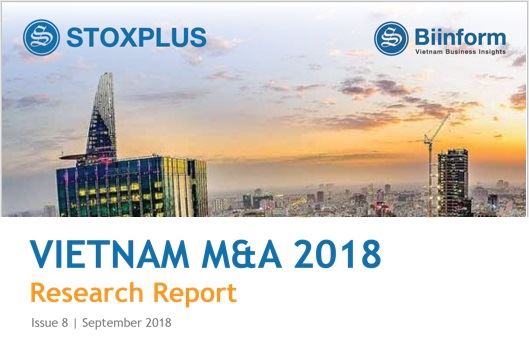 New record height was set in Vietnam M&A 2017 and first half of 2018 with total deal value of US$17.14bn thanks to increasing "mega" deals valuing over US$100mn. Given the country's favorable economic conditions such as rising population, improved income per capita, living standard and urbanization rate, Vietnam recorded significant M&A in sectors that focus on domestic demand. In particular, the most active sectors in 2017-1H2018 include Food & Beverage (US$6.49bn), Real Estate (5.41bn) and Banks (US$1.97mn).
Click here to explore full Vietnam M&A Report 2018 

Inbound M&A in Vietnam accelerated fast during 2017-1H2018
Figure 1: Inbound M&A (US$mn), 2013-1H2018
Figure 2: Inbound M&A by sector, 2017-1H2018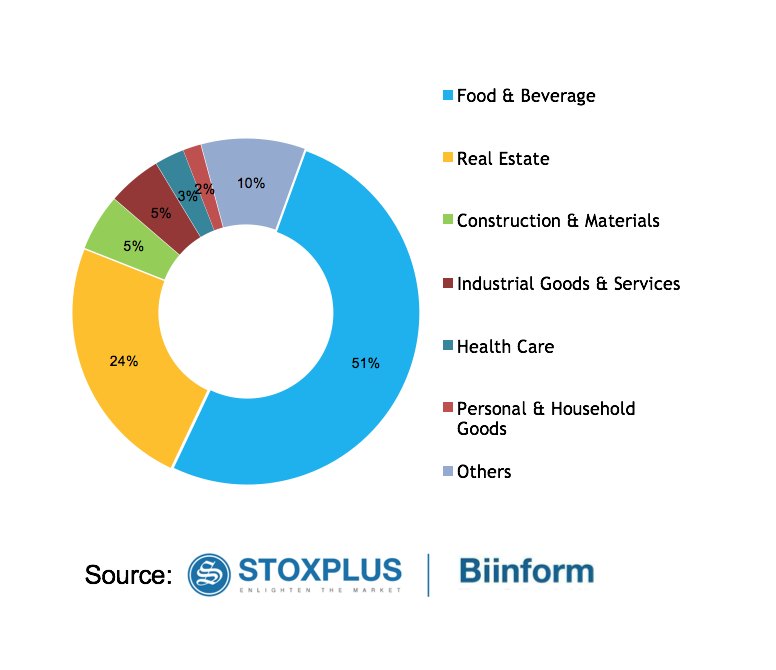 Inbound M&A, where a foreign company merges with or acquires a Vietnamese company, accounts for the majority of total transaction value in Vietnam during the review period. Many foreign investors enter Vietnam via M&A to play for the long term, as seen by more M&A deals in domestic demand focused sectors such as F&B, real estate, financial services, etc. The year 2017 presented M&A opportunities rarely seen before from IPOs and divestments of large Vietnamese companies. For example, ThaiBev (Thailand) successfully bid in what had been billed as the hottest auction of Vietnam's biggest asset sale. Vietnam's Ministry of Industry and Trade divested its 53.6% stakes in the brewery SABECO who occupied 40% of Vietnam beer market share, and sold to ThaiBev for breaking record deal of US$4.7bn.
Another state divestment is in Vinamilk, the largest dairy company in Vietnam. SCIC divested 3.3% stakes in Vinamilk and sold to F&N Group (owned by ThaiBev) for US$320mn. Jardine C&C (Singapore) also acquired 10.3% stakes in Vinamilk through negotiated transactions from existing shareholders valuing US$1.2bn. The Singaporean investor paid such high price because the acquisition of Vinamilk was in line with the Jardine C&C's strategy of investing in market-leading companies in the region. The IPO of Vingroup's subsidiary, Vincom Retail also attracted US$743mn from a syndicate of 9 foreign funds namely Avanda Investment Management Pte (Singapore), Dragon Capital (UK), Genesis Investment Management (UK), GIC Pte (Singapore), HSBC Asset Management (UK), Karst Peak (Hong Kong), RWC Asset Advisors (U.S.), Templeton Investments (U.S.), TT International (Hong Kong).
Equitization process in Vietnam opened opportunities for 2017 M&A, yet the number of successful SOE IPOs in 2017-1H2018 was small. There were only 21 and 16 SOE IPOs in 2017 and 1H2018 respectively. The progress of IPOs during 2016 to 2018 was also significantly less aggressive than in the previous period since 2012 to 2015. Vietnam market has just a few large M&A targets; hence M&A involving those targets are mostly occasional. Such mega deals as SABECO, Vinamilk and Vincom Retail are unlikely to occur again in the second half of 2018. Booming M&A market in 2017 also casts doubt on whether M&A activities in 2018 could match or outgrow that record. Therefore, Vietnam is seeking a breakthrough in the second half of 2018 amid growing M&A market.
M&A opportunities from Banks & Financial Services
Aside from obvious attention to consumer-based sectors like F&B and real estate, foreign investors are paying more attention to Vietnam's Banks and Financial Services sectors because of its tremendous untapped retail potentials. During 2017-1H2018, several local banks and credit institutions in Vietnam attracted foreign investors via pre-IPO private placements. In addition, foreign players also eye Vietnam consumer finance given its strong growth in recent years. In 2017-1H2018, noticeable M&A deals in Banks and Financial Services sectors include Warburg Pincus (U.S.) acquiring Techcombank for US$330mn, Shinhan Bank (South Korea) acquiring ANZ's retail division in Vietnam for US$240mn, Alp Asia Finance acquiring ACB for US$220mn, Shinhan Card (South Korea) acquiring Prudential Vietnam Finance for US$151mn and Lotte Card (South Korea) acquiring Techcom Finance for US$75mn.
In its efforts to restructure the economy, the Vietnam government has issued plans to develop the banking sector and to deal with financially weak banks, bringing the credit institution system back to a sustainable and healthy road map. Specifically, SBV encourages foreign investors to support weaker local credit institutions by allowing foreign investors to buy 100% of these weak banks. In August 2018, the Prime Minister announced the Government's intention to refrain from issuing new license to set up 100% foreign-owned banks in Vietnam, instead focusing the foreign strategic investors' attention on restructuring and acquiring the weaker domestic financial institutions.
Looking forward – Challenges and Opportunities
There still exist various barriers for foreign investors when doing M&A in Vietnam. Most foreign investors prefer doing business with large-scale companies that have competitive advantages in terms of brand reputation, market share, distribution network, etc., yet the majority of companies in Vietnam are small to medium sized. In addition, the number of opportunities to buy majority stake in a large-size, well established companies in Vietnam is small, while many foreign investors want to purchase large stakes to have significant impact on the company's management about its business.
Nevertheless, the positive growth of Vietnam's economy still promises numerous opportunities for foreign investors. M&A in 2018 is expected to keep increasing in volume, especially from inbound deals by frequent investors from Japan, Thailand, Singapore, Hong Kong and the U.S. as Vietnam currently possesses huge growth potentials (i.e growing and young population, high urbanization growth rate, rising income per capita, and higher living standards, etc.). M&A will continue to be the least risky and less costly market entry option, as well as the fastest route to enter Vietnam's growing market compared to greenfield one.
Figure 3: Top 10 Upcoming Divestments by Share Capital, 2017-2020
Although scheduled by the government to divest by certain timeline, many divestments have failed in 2017 and so far in 2018. Unsuccessful divestments stemmed from many reasons such as price too high, strict requirement for bidders, low shares offered, or business itself being unprofitable. For example, Petrolimex delayed divestment to 2019-2020 due to unfavored market. Viglacera attempted to divest in July 2018 yet failed due to unmet price target. Sonadezi only divested in subsidiary companies, but not the parent company. All of these companies' 2017 divestments did not come through and no public announcement of such so far in 2018 has succeed yet. Nevertheless, equitization process in Vietnam will continue to bring opportunities for M&A in the near future.
Click here to explore full Vietnam M&A Report 2018 

« Go Back