StoxPlus provides FiinPro® Platform for Saigon Securities Incorporation (SSI)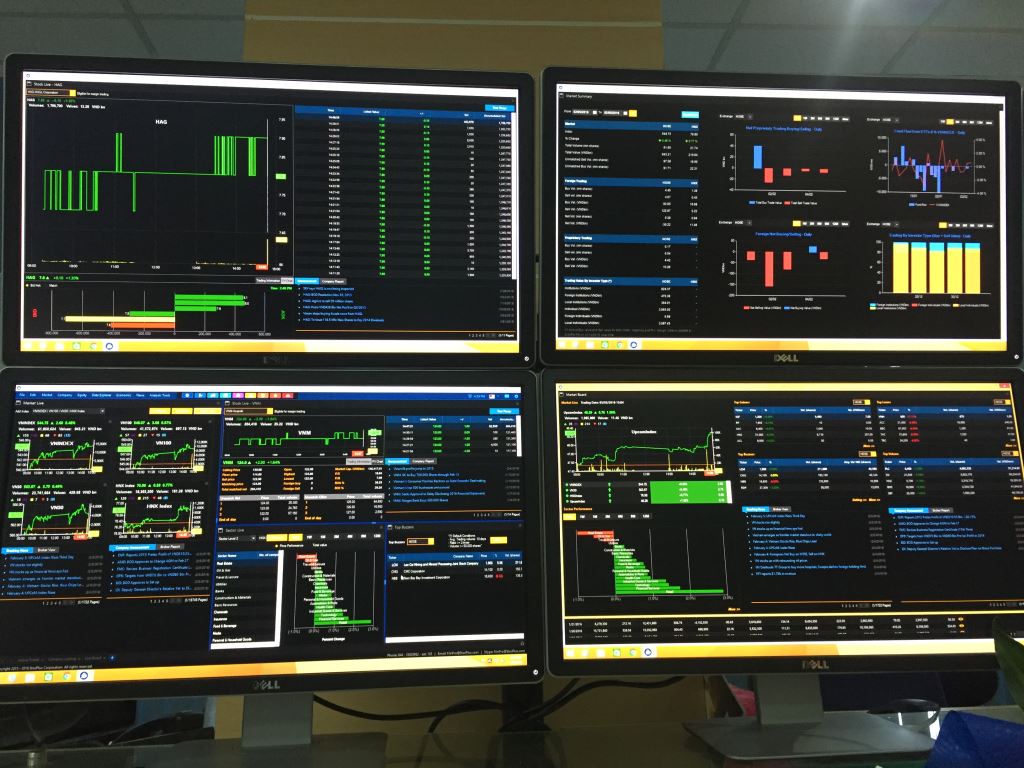 Direct user of FiinPro® Platform is at Retail Research & Investment Advisory. The department specializes in providing market analysis, trading and investing strategies and stock picks for their customers.
By subscribing FiinPro®, analysts and brokerage consultants of SSI can use the terminal to gain access to the financial database of Vietnam including market/trading data (basic and level 2), corporate database of not only listed companies but more than 2000 public companies with aggregated revenue of approximately 70% of Vietnam's GDP, industry data including monetary markets and macro data. Users can also use many basic and advanced functions and tools which are highly customized for Vietnam markets jointly developed by StoxPlus and QUICK Corp. (part of Nikkei Inc.).
Besides SSI, FiinPro® have been subscribed by a portfolio of local and international financial institutions including Securities firms (Ho Chi Minh City Securities Corporation - HSC), Agribank Securities Joint Stock Company, Rong Viet Securities Corporation - VDSC, Japan Securities Incorporated - JSI, Vietinbank Securities, VNDIRECT Securities, Saigon-Hanoi Securities, etc.; (ii) investment funds and asset managers namely BaoViet Fund Management Company Limited, FIDES Investment Management Company Limited, Techcom Capital Company Limited, PVI Asset Management, State Capital and Investment Corporation - SCIC, etc.; and Insurance firms such as BIDV Insurance Corporation; and (iv) foreign corporations investing in Vietnam such as CJ Group (Korea) and Kusto Group.
"FiinPro® Platform is the first in-depth financial database platform for Vietnam, jointly developed by StoxPlus and QUICK Corp. (part of Nikkei Inc). It covers market/trading data including level II data, corporate data not only listed companies but more than 2,000 public companies (with total revenue accounting for nearly 70% of Vietnam's GDP), industry data and macro data. FiinPro® also provides basic and advanced analytics tools such as Stocks Analysis, Stocks Screening, Data Export in Excel and many other tools to support research analysts, portfolio managers, investment bankers, financial consultants and other financial professionals"
By StoxPlus
« Go Back
Our Events
Oct 09, 2018

Are Banking Stocks Still Attractive?

Banking stocks have been one of the market leading ones over the years. FiinPro data showed that banking stocks enjoyed a 3-digit growth for the past five years, up 154.1% versus VNIndex's double-digit gain of 96.5%. Will the attractiveness of banking stocks remain in the last months of 2018 and in 2019?

Oct 03, 2018

Outlook of EPS in banking and real estate sectors towards end 2018

Banking and real estate stocks are considered the leading stocks as they account for 40% of the total market capitalization and 47% of the average daily trading value in the year to date. Building investment strategies for the coming time as well as in the coming years will depend heavily on how these two sectors will perform.