"How to Avoid Growth Traps in Vietnam's Stock Market" Workshop Provides Participants Insights to Take Away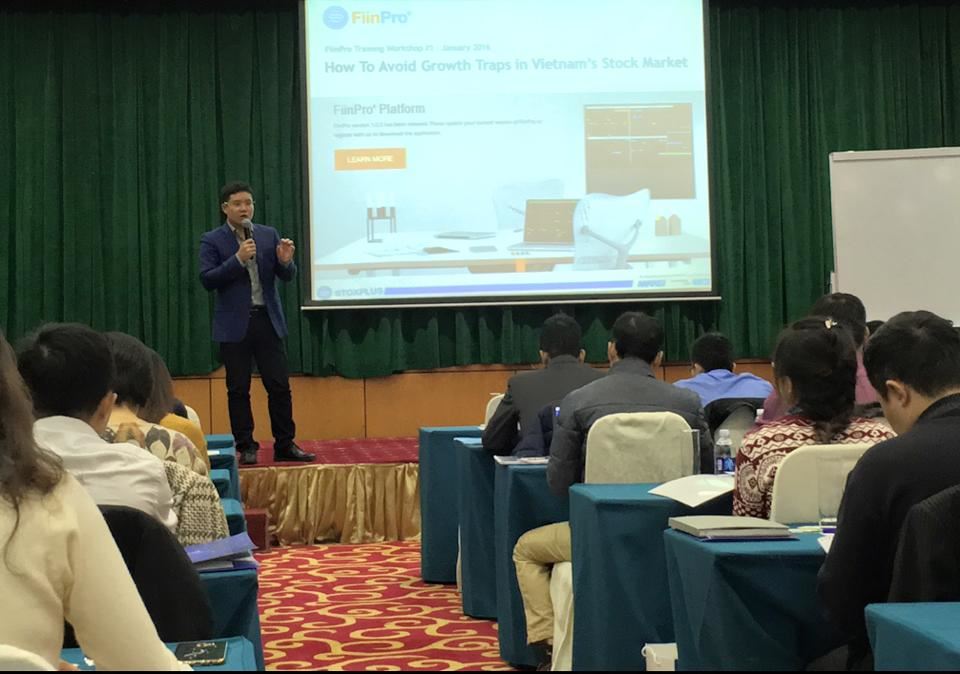 StoxPlus' FiinPro® Training Workshop #1, the first practical and insightful workshop conducted by StoxPlus for its customers in 2016, delivered participants the information needed for a sharper understanding of what growth traps mean for Vietnam's stock market.
The workshop featured a combination of the expertise and experience of Dao Phuc Tuong, a well-respected fund manager who is managing an AUM of US$3.1bn covering Asia, with the FiinPro Platform database and application created by StoxPlus.
The workshop received 50 participants in Ho Chi Minh City and 70 ones in Hanoi, both from buy-side including investment officers and sell-side including analysts from securities companies such as Ho Chi Minh City Securities Corporation (HSC), State Capital Investment Corporation (SCIC), Dragon Capital, CJ Group, Viet Dragon Securities Corporation, Saigon Securities Incorporation (SSI), and Vietcombank Securities Company Limited (VCBS).
Participants had a chance to look at stock valuation and under-the-surface performance of companies from a buy-side point of view with interesting discussions about specific case studies. The speaker and participants together (1) accessed the quality of earnings of listed and public companies in Vietnam especially with high-growth companies; (2) learned the skills to apply M-Score model on the "big data" of FiinPro® on how to identify companies with high probability of earnings manipulation, (3) applied Z-Score model on the "big data" of FiinPro® on how to identify companies with high probability of financially distress and (4) dug into the depth and beyond the financial statement analysis by discussing the business strategy, management discussions, the business model and cyclical characteristics of industries. The workshop also provided a list of companies for investors to watch for as an outcome from the models.
Participants came away from the workshop with new insights and critical understanding about growth traps and eager to acquire the "big data" that FiinPro® provides. Ms. Nguyen Thi Tam Hanh [TN1] – investment director at Hochiminh City Securities Corporation (HSC) texted organizer: "This is the first time I participated in a training workshop organized by StoxPlus and feel a great impression with practical insights from the applying the comprehensive database of StoxPlus and the speaker Mr. Dao Phuc Tuong. It is very interesting and useful".
Mr. Huynh Minh Tuan – Analyst from Viet Dragon Securities (VDSC) shared his thoughts: " This training workshop is very exciting. I just think that training duration is slightly short. I would like to have more similar training courses by StoxPlus to study from Mr.Tuong and attend more case study with comprehensive date from FiinPro®".
The speaker - Dao Phuc Tuong, CFA
Tuong has accumulated more than 18 years of experience in banking, management consulting and investments. He has witnessed and studied a dozen of Vietnamese and regional companies with accounting frauds. Currently, Tuong is a portfolio manager of APS Asset Management, a boutique investment firm with a total AUM of US$3.1 billion in Singapore. Tuong graduated with a Master of Commerce (Finance) degree from the University of New South Wales, Australia. He is currently a member of the Chartered Financial Analysts (CFA), Singapore Society."
« Go Back
Our Events
Oct 09, 2018

Are Banking Stocks Still Attractive?

Banking stocks have been one of the market leading ones over the years. FiinPro data showed that banking stocks enjoyed a 3-digit growth for the past five years, up 154.1% versus VNIndex's double-digit gain of 96.5%. Will the attractiveness of banking stocks remain in the last months of 2018 and in 2019?

Oct 03, 2018

Outlook of EPS in banking and real estate sectors towards end 2018

Banking and real estate stocks are considered the leading stocks as they account for 40% of the total market capitalization and 47% of the average daily trading value in the year to date. Building investment strategies for the coming time as well as in the coming years will depend heavily on how these two sectors will perform.