PYN Asia Research signed up FiinPro Platform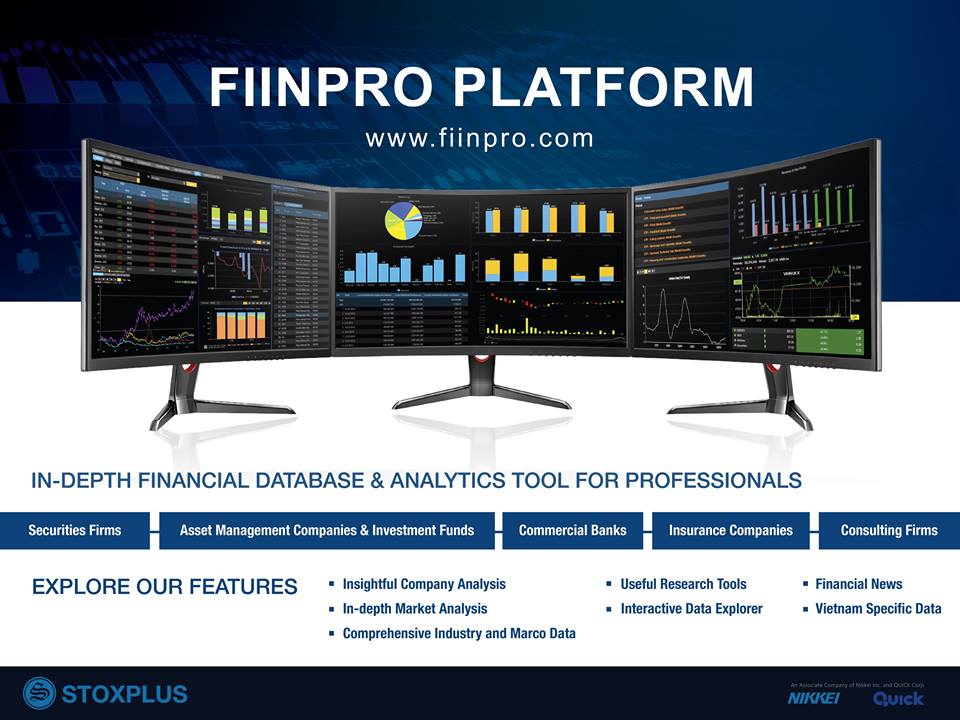 StoxPlus is proud to provide FiinPro Platform for Research team of PYN Asia Research - an independent market research company specializing on Asian markets, to boost research activities.
It's a fact that many corporations and businesses in Thailand are rapidly establishing and expanding their presence in Vietnam through mergers and acquisitions (M&A). According to the Ministry of Planning and Investment's Foreign Investment Agency (FIA), Thailand has invested more than US$8 billion in Viet Nam to become the country's tenth largest investor. As stated by Mr. Kelvin Tan - CEO of HSBC Thailand, Thai businesses will increase their investments in Vietnam in 2018, mainly through foreign direct investment (FDI) and mergers & acquisitions (M&A). The participation of Vietnam in FTAs ​​and the ASEAN Economic Community (AEC) has helped to attract foreign capital and strengthen the relations with other economies in the world.
Seeing potential in Vietnam emerging market, PYN Elite has concentrated its investments in Vietnam. As reported by Vietnam Investment Review, entering Vietnam in 2013, PYN Elite is the third largest foreign-investment fund in Vietnam with a total investment capital of $491.4 million. PYN Asia Research provides exclusively research and analysis services for PYN Fund Management Ltd, which manages PYN Elite Fund. They focus on analyzing markets and equities not commonly covered by larger investment banks, security brokers and research firms.
To implement their investment plan for Vietnam effectively, it's crucial for them to have a trusted and large financial database about Vietnam market, Vietnamese corporations, industry data and so on. They found that FiinPro® is able to augment their investment research and trading process by various useful analytics tools and excellent customer support services from a dedicated team of more than 50 data analysts including experienced analysts holding CFA, CPA and ACCA qualification.
Direct users of FiinPro® at PYN Asia Research are analysts and consultants of Research Department. Empowered by the most comprehensive and insightful financial database for Vietnam, FiinPro® helps PYN's researchers and analysts save time and money in acquiring, processing, analysing, filtering data, and verifying business potential and strategies. With FiinPro®, users are able to get Vietnam's market/trading data, corporate database of not only listed companies but more than 3000 public companies with an aggregated revenue of approximately 70% of Vietnam's GDP, industry data including monetary market and macro data.
By using FiinPro® Platform, as well as some other support tools, PYN Asia Research has helped PYN Fund Management Ltd make a lot of smart and successful investments in Vietnam. Their accomplishments in Vietnam market will urge Thailand's financial institutions to access the Vietnam market.
Besides PYN Asia Research, FiinPro® has been subscribed by a number of Investment funds and asset management companies such as Dragon Capital Group, VinaCapital Group Ltd., VietinBank Capital, SAM Holdings, Vietnam Holding Ltd. (VNH), Ward Haven Capital Ltd., Endurance Capital Group, BaoViet Fund Management Company Ltd., DBA-Rhino JSC, Vietfund Management (VFM), FIDES Investment Management Company Ltd., Techcom Capital Company Ltd., PVI Asset Management, Passion Investment (PI), State Capital Investment Corporation (SCIC), etc.
Please click here to explore how FiinPro® supports PYN Asia Research's specialists work better, smarter and faster.
Minh Ngoc
« Go Back