StoxPlus Provides New Data on FiinPro Platform Version 1.0.5
Dear valued customers,
We would like to extend our sincere thanks to valued customers who have been trusting and supporting us through using StoxPlus' FiinPro. We believe that our FiinPro has been providing you with useful data to boost your operation efficiency.
StoxPlus, with our motto of "Innovative always" in financial information service industry in Vietnam, has been making efforts and committed to providing customers additional unique features, functions, datasets and tools on FiinPro Platform on regular basis.
We are proud to announce today, May 25, 2016 that FiinPro is the only one on the market that you can find daily trading data by categories of investors (institutional and retail investors). This illustrates StoxPlus' continuous efforts to provide our customers in-depth market level 2 data in line with international standards and practice.
Trading data by categories is updated daily at 5:00 pm Vietnam time. The data consists of market data, stock data classified by four categories: local retail investors, foreign retail investors, local institutional investors, foreign institutional investors. The data is now available for stocks listed on the Hochiminh Stock Exchange (HOSE) and StoxPlus is working with the Hanoi Stock Exchange (HNX) to achieve the data for stocks listed on the bourse.
The data will enable users to know exactly which categories of investors dominate on the stock market by transaction value. Retail investors currently account for over 70% of the trading value, however, it is foreign institutional investors who are the key opinion leaders driving the local mass which is psychological.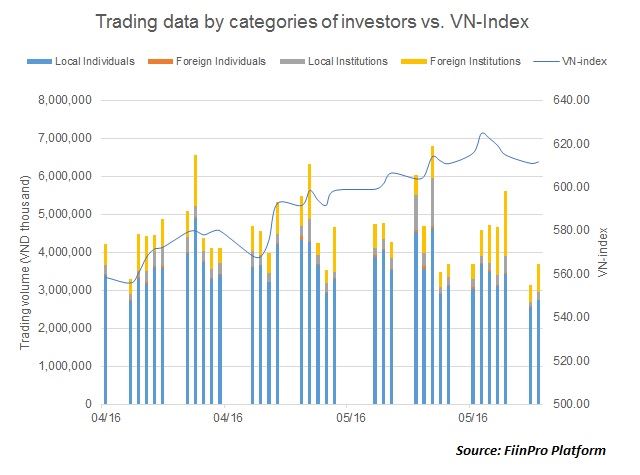 « Go Back
Our Events
Sep 30, 2016

# FIINPRO TALK #3: Analysis of real estate sector and real estate stocks

Vietnam real estate market has undergone various cycles, which is marked with a strong recovery recently thanks to soaring credit growth and low interest rates. When there is a large discrepancy between real estate stocks and market average & earnings forecast 2016, many questions are raised about how the bullish of real estate stock and real estate market shall continue in the next few months, so FiinPro Talk#3 is designed and organized by StoxPlus to come up with answer for the above hot question.

Aug 19, 2016

#FIINPRO TALK #2: Market Risk Management

The State Bank of Vietnam introduced the roadmap of restructuring banking system in Vietnam in 2011. After 5 years, some banks had to merge into others, bearing a negative charter capital or a huge loss. The real situation leads to an urging need of risk management, especially market risk at banks in particular and financial institutions with investments in general.