[FiinPro® Data] Total margin loans of all securities firms reached VND43,235.6 billion at the end of Q1/2018
According to data source of StoxPlus, total margin loans of all securities firms reached VND43,235.6 billion at the end of first Quarter 2018, up by 73% compared to the same period last year.
Top 10 securities companies with the highest margin loans accounted for 72% of total (standing at nearly VND31,000 billion), including Saigon Securities Inc. (SSI), Ho Chi Minh City Securities Corp (HCM), and Viet Capital Securities JSC (VCSC).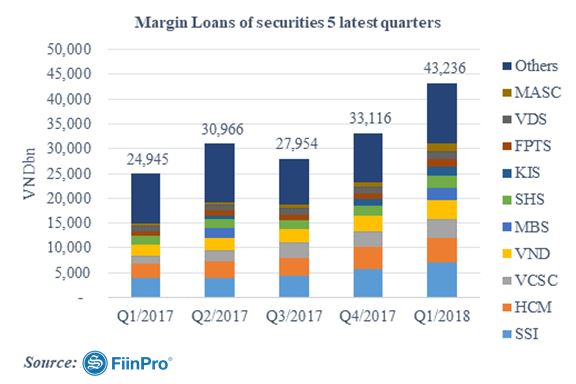 Download detailed figures http://fiinpro.com/upload/fiinpro/FiinPro_MarginLoan_29May2018_EN.xlsx
In addition, you can visit our FiinPro Platform to directly access data in Market tab >> Margin Loans. Get free Trial Account: http://fiinpro.com/
If you have any questions or require further information, please contact our Customer Support via:
In Hanoi:
Do Thi Lan (Ms.)
Tel: 024 3562 6962 ext: 103
In HCMC:
Nguyen Hai Yen (Ms.)
Tel: 028 3933 3585 ext: 203
« Go Back
Our Events
Oct 09, 2018

Are Banking Stocks Still Attractive?

Banking stocks have been one of the market leading ones over the years. FiinPro data showed that banking stocks enjoyed a 3-digit growth for the past five years, up 154.1% versus VNIndex's double-digit gain of 96.5%. Will the attractiveness of banking stocks remain in the last months of 2018 and in 2019?

Oct 03, 2018

Outlook of EPS in banking and real estate sectors towards end 2018

Banking and real estate stocks are considered the leading stocks as they account for 40% of the total market capitalization and 47% of the average daily trading value in the year to date. Building investment strategies for the coming time as well as in the coming years will depend heavily on how these two sectors will perform.