StoxPlus Organizes 2-Day Training Workshop on "Financial Statements Analysis and Financial Statements Fraud Detection" for SSC Staff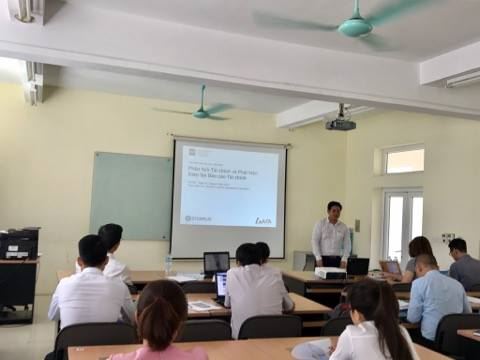 On June 6 and 7, 2017, StoxPlus, with support from AFA Research & Education, organized a two day workshop on "Financial Statements Analysis and Financial Statements Fraud Detection" for over 50 staff of the State Securities Commission (SSC).
This is one of the activities within the framework of cooperation between StoxPlus and SSC under the Memorandum of Cooperation signed on 24/6/2016 and exchanged with the Human Resource Department of the SSC and approved by the SSC leaders.
This workshop aims to (1) equip SSC staff with the current quality of financial statements of public companies, (2) provide basic skills for assessing and detecting frauds in financial statements and (3) contributing to support the SSC with monitoring public companies, appraising securities issuance, disclosing information on the stock market as well as contributing to the development of related policies and supervision to improve the quality of financial statements and information disclosure on the stock market.
Two speakers, Mr. Nguyen Quang Thuan –CEO of StoxPlus and Mr. Phan Le Thanh Long - Director of AFA Research & Education, fed workshop participants with practical and useful contents (1) identifying some indictors of financial statements cooking, (2) the methodology for identifying financial statements cooking, "(3) structure of financial statements and and some important accounting principles, (4) corporate governance and the cause of profit/loss management and accounting fraud, (5) the methodology for discovering profit/loss cooking and frauds and (6) fraudulent tactics in financial statements.
« Go Back
Our Events
Apr 23, 2018

Fiinpro Talk #6 – Đầu Tư Cổ phiếu Ngành Ngân Hàng Việt Nam: Cơ Hội và Rủi Ro

Chiều ngày 19/04, FiinPro Talk #6 đã được tổ chức thành công tại TP.HCM với sự tham dự của gần 150 nhà đầu tư và đại diện các Công ty chứng khoán, Ngân hàng, Quỹ đầu tư... Buổi thảo luận đã đưa ra cái nhìn tổng quan về thị trường cổ phiếu ngành ngân hàng 5 năm vừa qua, đồng thời chỉ rõ các cơ hội và rủi ro đầu tư với số liệu phân tích của StoxPlus và các chuyên gia cấp cao trong ngành tài chính, ngân hàng.

Apr 23, 2018

FiinPro Talk #6 - Vietnamese Banking Stocks: Investment Opportunities and Risks

On 19 April 2018, FiinPro Talk #6 was organized successfully in HCMC by FiinForm - StoxPlus, with almost 150 participants from investment companies, financial institutions, banks, etc. The conference summarized the Vietnamese banking stocks situation in the last 5 years, and pointed out upcoming opportunities and risks with StoxPlus's statistic and experts' analysis.