StoxPlus Organizes 2-Day Training Workshop on "Financial Statements Analysis and Financial Statements Fraud Detection" for SSC Staff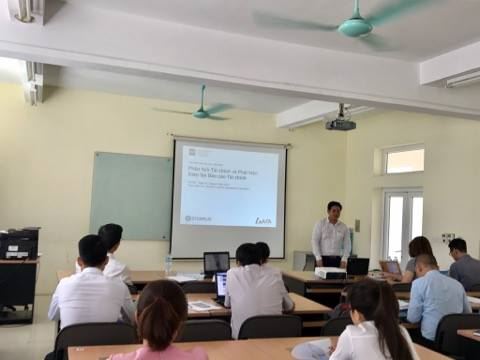 On June 6 and 7, 2017, StoxPlus, with support from AFA Research & Education, organized a two day workshop on "Financial Statements Analysis and Financial Statements Fraud Detection" for over 50 staff of the State Securities Commission (SSC).
This is one of the activities within the framework of cooperation between StoxPlus and SSC under the Memorandum of Cooperation signed on 24/6/2016 and exchanged with the Human Resource Department of the SSC and approved by the SSC leaders.
This workshop aims to (1) equip SSC staff with the current quality of financial statements of public companies, (2) provide basic skills for assessing and detecting frauds in financial statements and (3) contributing to support the SSC with monitoring public companies, appraising securities issuance, disclosing information on the stock market as well as contributing to the development of related policies and supervision to improve the quality of financial statements and information disclosure on the stock market.
Two speakers, Mr. Nguyen Quang Thuan –CEO of StoxPlus and Mr. Phan Le Thanh Long - Director of AFA Research & Education, fed workshop participants with practical and useful contents (1) identifying some indictors of financial statements cooking, (2) the methodology for identifying financial statements cooking, "(3) structure of financial statements and and some important accounting principles, (4) corporate governance and the cause of profit/loss management and accounting fraud, (5) the methodology for discovering profit/loss cooking and frauds and (6) fraudulent tactics in financial statements.
« Go Back
Our Events
Oct 09, 2018

Are Banking Stocks Still Attractive?

Banking stocks have been one of the market leading ones over the years. FiinPro data showed that banking stocks enjoyed a 3-digit growth for the past five years, up 154.1% versus VNIndex's double-digit gain of 96.5%. Will the attractiveness of banking stocks remain in the last months of 2018 and in 2019?

Oct 03, 2018

Outlook of EPS in banking and real estate sectors towards end 2018

Banking and real estate stocks are considered the leading stocks as they account for 40% of the total market capitalization and 47% of the average daily trading value in the year to date. Building investment strategies for the coming time as well as in the coming years will depend heavily on how these two sectors will perform.