[FiinPro Platform] Upgraded Version 1.2 released on May 19, 2017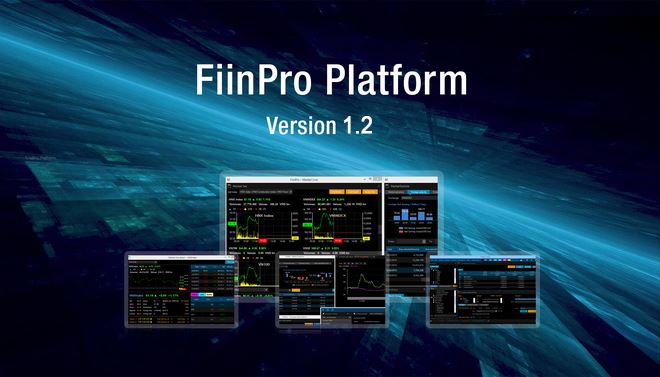 we are pleased to inform you that we will upgrade FiinPro from version 1.1  to version 1.2 on May 19, 2017
Dear our valued customers,
StoxPlus would like to extend our sincere thanks to our valued customers who have been trusting and supporting us through using our FiinPro. We believe that our FiinPro has been providing you with useful data to boost your operation efficiency.
Our passion under Financial Information Services ("Fiinform") has been set clearly: "Innovative Always". Under our development pipeline, there will be more features, tools and data added to the FiinPro.
And today, we are pleased to inform you that we will upgrade FiinPro from version 1.1  to version 1.2 on May 19, 2017  with the following details:
What's new in this FiinPro?
Smart Screening:

Include all functions from Stock Screening (now named Quick Screening), with addition:
Support screening as time series, allow user to choose past periods to screen stocks, such as find stocks with ROE > 20% in 3 years, or stocks with CFO > 0 in 2 years,…
Allow user to compare criteria with its past data, as a result user can find stocks with EPS growing consecutively in 4 years, stocks with the lowest P/E in 3 years,…
Screen by Corporate Events in a chosen time range.
And other changes to best assist user's screening activities.

Portfolio:

Cash Management added, allowing user to follow changes of cash in their portfolio.
Fee/Tax auto-calculate functions available for users to monitor their portfolio more adequately and precisely.
Enable quick access to Company Lookup and quick look at company news.

300+ Trading Indicators added to Company Data Explorer and Sector/Index Data Explorer, including: record high Trading Volume, record high Trading Value , highest/lowest Trading Volume in 1 month, 3 months, 6 months, 1 year, Net Sales Growth in 3 years, 5 years,…
And many other changes for system stabilization and maximize user's experience.
How to upgrade? Users can upgrade to FiinPro version 1.2 from 00h00 May 19, 2017.
Step 1: Close and reopen your FiinPro.
Step 2: "Check to update" window will appear. Click "OK".
Note:
"Skip" button is to ignore the upgrade if you do not want to. However, we strongly recommend you to upgrade FiinPro® to use it in most effective way.
We will update the whole system on 18/05/2017, start at 8:00 PM to 11:59 PM Vietnam time. Please be informed that, the system should be down for the upgrade, and users cannot use FiinPro® Platform during this time. We are sorry for any inconvenience and would like to welcome you come back and upgrade FiinPro® after the time slot above.
Should you have any questions or queries during the upgrade process, please feel free to contact our Customer Support Centre at any time (including weekends) on:
Do Thi Lan (Ms.) FiinPro,
Customer Support, Hanoi Head Office
Tel: +84-4-3562 6962 – ext: 103
Email: lan.do@stoxplus.com  
Ly Thi Hien (Ms.) FiinPro,
Account Executive, HCM Branch
Tel: +84-8-3933 3586 – ext: 201
Email: hien.ly@stoxplus.com
« Go Back
Our Events
Apr 23, 2018

Fiinpro Talk #6 – Đầu Tư Cổ phiếu Ngành Ngân Hàng Việt Nam: Cơ Hội và Rủi Ro

Chiều ngày 19/04, FiinPro Talk #6 đã được tổ chức thành công tại TP.HCM với sự tham dự của gần 150 nhà đầu tư và đại diện các Công ty chứng khoán, Ngân hàng, Quỹ đầu tư... Buổi thảo luận đã đưa ra cái nhìn tổng quan về thị trường cổ phiếu ngành ngân hàng 5 năm vừa qua, đồng thời chỉ rõ các cơ hội và rủi ro đầu tư với số liệu phân tích của StoxPlus và các chuyên gia cấp cao trong ngành tài chính, ngân hàng.

Apr 23, 2018

FiinPro Talk #6 - Vietnamese Banking Stocks: Investment Opportunities and Risks

On 19 April 2018, FiinPro Talk #6 was organized successfully in HCMC by FiinForm - StoxPlus, with almost 150 participants from investment companies, financial institutions, banks, etc. The conference summarized the Vietnamese banking stocks situation in the last 5 years, and pointed out upcoming opportunities and risks with StoxPlus's statistic and experts' analysis.