FiinPro v.2.0 is now available since 4 January 2019
With the mission "Innovative Always", STOXPLUS continues to provide remarkable functions of FiinPro Platform – the most comprehensive financial database system in Vietnam.
Since the establishment of FiinPro Platform in 2015, Information Technology Experts and Client Advisors at STOXPLUS have been actively researching and improving data system to enhance user experience and offer users with valuable information. On Friday 4 January 2019, FiinPro Platform will be upgraded into FiinPro v2.0 with tremendous improvements such as speed performance, user interface customization an database broadened.
FiinPro v2.0 – What's new?
Feature improvement:
Financial reporting feature: Updating latest Banking Financial Statement according to Circular 49/2014
Database source:
           - Adding price statistics and transaction data
           - Enabling export multiple index at the same time
           - Vietnamese macroeconomic data: providing quarterly Balance of Payment data according to SBV's announcement from 2012 to present
Performance enhancement: FiinPro v2.0 is developed from a completely new technology foundation with outstanding advanatges including speed performance and system's stability:
Reducing data loading time when user open and use FiinPro Platform
Reducing large amount of resources occupied on the computer which helps to increase the stability of the system.
User interface customization:
       1. Adjusting background to be in black or white
       2. Adjusting font size based on users' preferences
       3. Adjusting page layout based on users' preferences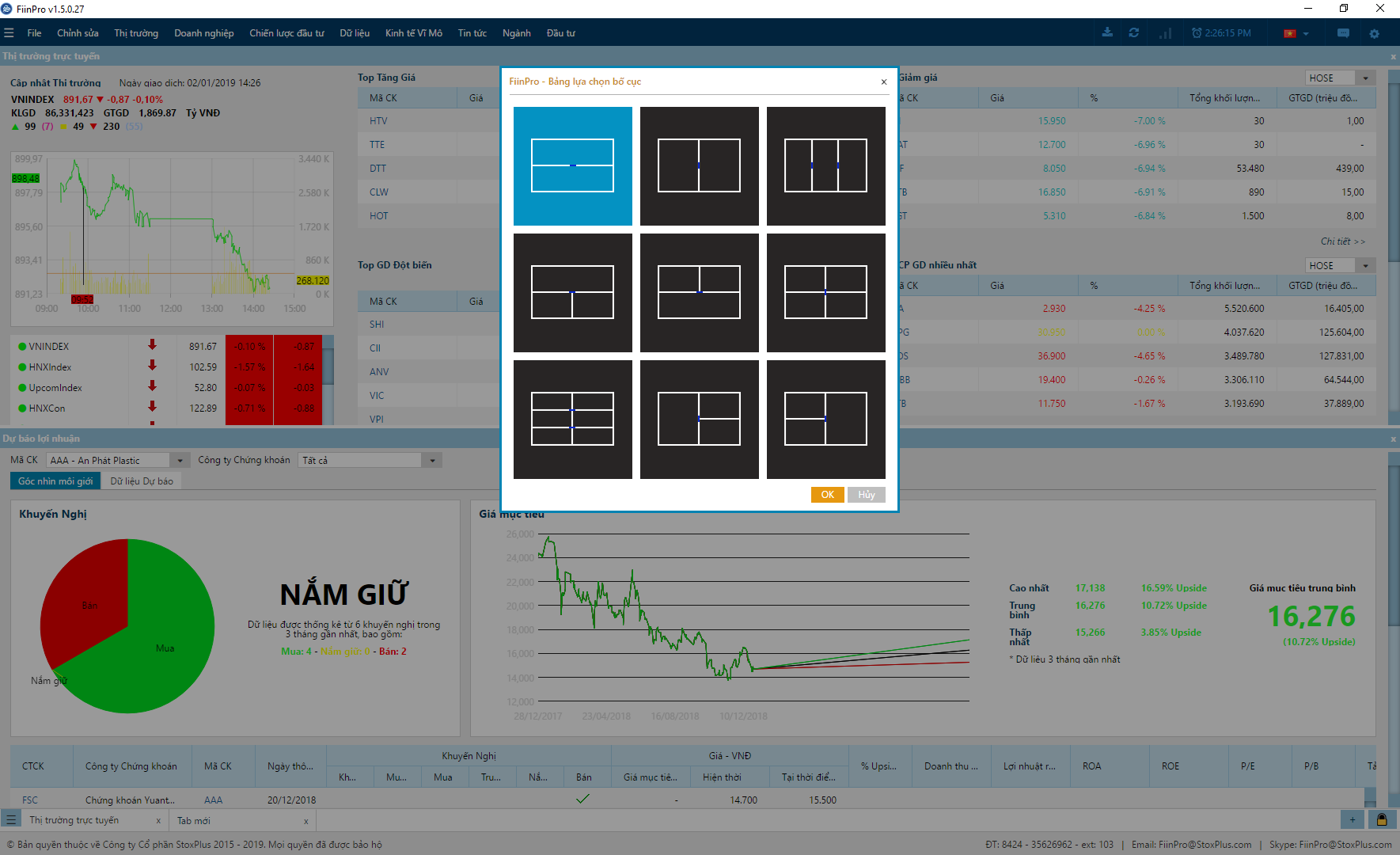 Adding Export Excel functions: STOXPLUS has received requests from customers to provide Export Excel feature for lots of data fields. With FiinPro v2.0, customers could directly download necessary information into Excel files at following data fields:
Market live: Variety of industry transaction data will be updated real time
Market statistics/Trading by investor type: Transaction data by individuals, organizations, domestic and foreign entities
Contribution analysis: Data of enterprises' contribution into VN-Index, HNX-Index
Steel industry: supply - demand, inventory, import and export with many indicators of steel industry
How to upgrade FiinPro Platform v2.0?
Customers could start upgrading  FiinPro v2.0 since 22:00 on January 4, 2019 by following these steps:
Remove current version of FiinPro Platform from your computer.
Download and install FiinPro v2.0 via: http://fiinpro.com/fiinproapp/publish.htm
Contact Customer Support to receive new Activation Key.
Note:
As FiinPro Platform system will be upgraded from 19:00 on 04/01/2019 to 22:00 on 04/01/2019, Vietnam timezone (GMT+7), please kindly be informed that customers could not access into the system during that time.
From 05/01/2019 – 06/01/2019, we are going to debug. Hence, we recommend our valued customers to start using FiinPro since 00:00 on 07/01/2019.
In case there are any inquries, please contact us for further assistance:
Do Thi Lan
Client advisor, Hanoi headquater
Phone: +84-24-3562 6962 – ext: 103
Email: lan.do@stoxplus.com
Or
Nguyen Hai Yen
Client advisor, Ho Chi Minh City Branch
Phone: +84-28-3933 3586 – ext: 201      
Email: yen.nguyen@stoxplus.com
« Go Back