Vietnam Stock Market Raises VND29 Trillion in Quarter 1/2018
Capital raised from the initial public offering (IPOs) reached VND 21.3 trillion
StoxPlus' data showed that by the end of Q1/2018:
Capital raised from the initial public offering (IPOs) reached VND 21.3 trillion by 12 companies including big names Binh Son Oil Refinery (BSR) with VND 5,566 billion; PetroVietnam Oil Corporation (PVOIL) with VND4,117 billion; Petro Vietnam Power Corporation (POW) with VND6,997 billion. April expects other four companies to go public: Lung Lo 3 One Member Liability Company, An Giang Urban Environment One Member Company limited, Van Tuong Investment Structure One Member Company Limited, and Vietnam Cable Television (VTVcab).
Capital raised from issuing new shares reached nearly VND7.8 trillion, equaling to 15.6% of the total capital raised in 2017. The main issuance methods are issuing new shares for existing shareholders and private placement (*)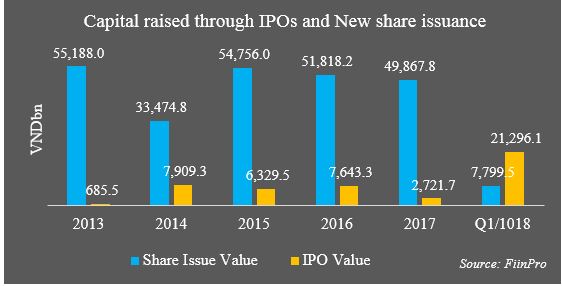 (*) Total value of IPOs in 2017 is exclusive of  Ho Chi Minh City Development Joint Stock Commercial Bank (HD Bank); Vincom Retail Joint Stock Company (VRE) ; and Vietnam Prosperity Joint Stock Commercial Bank (VPBank)
Please download the full data at: http://fiinpro.com/upload/fiinpro/FiinPro_Data_support_04April2018.xlsx
We hope StoxPlus' data updates will help you do your work better. If you need any assistance or need more detailed information, please contact:
Ms. Nguyen Anh Tuyet
Manager, Business Development, Fiinform
Email: tuyet.nguyen@stoxplus.com
Mobile: +84 122 333 5034
Tel: +84-14-3562 6962 – ext: 103
« Go Back
Our Events
Sep 10, 2018

FiinPro Talk #7 (Hanoi) - Banking & Real Estate Stocks: Closing for 2018 & Outlook

Banking and Real Estate Stocks have been undoubtedly driving the market given its 40% contribution to the total market cap. These two groups also attracted a large portion of foreign capital flows into Vietnamese stock market, accounting for 47% and 88% of Daily Trading Value and Total Net Foreign Trading Value, respectively from the beginning of 2018 to date.

Jul 11, 2018

FiinPro - User Training Class in Hanoi and Ho Chi Minh city

FiinPro Platform, empowered by the most comprehensive and insightful financial database for Vietnam, will help you save time and money in acquiring, cleaning up, validating and standardizing data. It also helps to enhance your investment research and trading process with various useful analytics tools and excellent customer support services.