Vietnam Stock Market Raises VND29 Trillion in Quarter 1/2018
Capital raised from the initial public offering (IPOs) reached VND 21.3 trillion
StoxPlus' data showed that by the end of Q1/2018:
Capital raised from the initial public offering (IPOs) reached VND 21.3 trillion by 12 companies including big names Binh Son Oil Refinery (BSR) with VND 5,566 billion; PetroVietnam Oil Corporation (PVOIL) with VND4,117 billion; Petro Vietnam Power Corporation (POW) with VND6,997 billion. April expects other four companies to go public: Lung Lo 3 One Member Liability Company, An Giang Urban Environment One Member Company limited, Van Tuong Investment Structure One Member Company Limited, and Vietnam Cable Television (VTVcab).
Capital raised from issuing new shares reached nearly VND7.8 trillion, equaling to 15.6% of the total capital raised in 2017. The main issuance methods are issuing new shares for existing shareholders and private placement (*)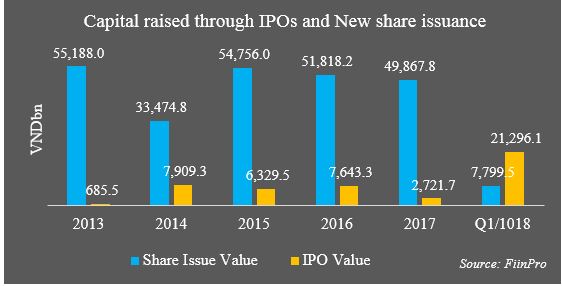 (*) Total value of IPOs in 2017 is exclusive of  Ho Chi Minh City Development Joint Stock Commercial Bank (HD Bank); Vincom Retail Joint Stock Company (VRE) ; and Vietnam Prosperity Joint Stock Commercial Bank (VPBank)
Please download the full data at: http://fiinpro.com/upload/fiinpro/FiinPro_Data_support_04April2018.xlsx
We hope StoxPlus' data updates will help you do your work better. If you need any assistance or need more detailed information, please contact:
Ms. Nguyen Anh Tuyet
Manager, Business Development, Fiinform
Email: tuyet.nguyen@stoxplus.com
Mobile: +84 122 333 5034
Tel: +84-14-3562 6962 – ext: 103
« Go Back
Our Events
Apr 23, 2018

Fiinpro Talk #6 – Đầu Tư Cổ phiếu Ngành Ngân Hàng Việt Nam: Cơ Hội và Rủi Ro

Chiều ngày 19/04, FiinPro Talk #6 đã được tổ chức thành công tại TP.HCM với sự tham dự của gần 150 nhà đầu tư và đại diện các Công ty chứng khoán, Ngân hàng, Quỹ đầu tư... Buổi thảo luận đã đưa ra cái nhìn tổng quan về thị trường cổ phiếu ngành ngân hàng 5 năm vừa qua, đồng thời chỉ rõ các cơ hội và rủi ro đầu tư với số liệu phân tích của StoxPlus và các chuyên gia cấp cao trong ngành tài chính, ngân hàng.

Apr 23, 2018

FiinPro Talk #6 - Vietnamese Banking Stocks: Investment Opportunities and Risks

On 19 April 2018, FiinPro Talk #6 was organized successfully in HCMC by FiinForm - StoxPlus, with almost 150 participants from investment companies, financial institutions, banks, etc. The conference summarized the Vietnamese banking stocks situation in the last 5 years, and pointed out upcoming opportunities and risks with StoxPlus's statistic and experts' analysis.